WYD:Madrid Visitation & the Sacred Heart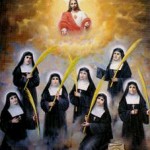 Did you know that there are three Visitation Monasteries in Madrid?
Well, there are!
And what makes the First Monastery in Madrid special is that the relics of the SEVEN BEATIFIED MARTYRS OF THE MADRID VISITATION are there, while in addition, some of the Sisters lie respectfully in repose at the Valley of the Fallen.
These seven Visitation Sisters gave their lives during the Spanish Civil War in 1936 and were beatified by Blessed John Paul II in 1998.
So those who are gathering for the World Youth Day in Madrid in August may just want to pay a prayerful call on these Martyrs in the Visitation Chapel in Madrid. May their intercession for you bring you joy,and the gift of courage to stand up for your faith as they did!
IN ADDITION, POPE BENEDICT XVI WILL CONSECRATE ALL YOUTH TO THE SACRED HEART OF JESUS IN MADRID.
ST. MARGARET MARY ALACOQUE WHO RECEIVED THE REVELATIONS OF THE SACRED HEART, WAS A VISITATION SISTER!.
See the article below:
http://www.zenit.org/article-33085?l=english
One Response to "WYD:Madrid Visitation & the Sacred Heart"