Mystical Moments with Ven. Mary Martha Chambon
Ven. Mary Martha Chambon was blessed to experience the presence of the Lord Jesus with her almost continually. She sensed Our Lord Jesus say to her one time, "My heart is wide, My Heart is tender. The wound of My Heart is deep enough to contain all your needs."In vision, He showed her His Sacred Wounds shining like suns with a brilliance she could hardly bear. His Sacred Heart resembled a glowing furnace. Jesus spoke to her, " Behold what is reserved for you. Having invoked them faithfully in life, you shall contemplate them in eternity."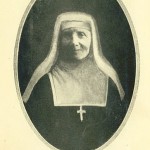 The virtue of humility was one of Sister's prominent qualities. Her humility was evidenced in her prayer in times of personal failure: "See my Jesus I have no more power than this dust", she once remarked, referring to the typical charge she had of cleaning.
There is an immediacy about this kind of prayer; putting herself directly in the present moment, as her Holy Founder St. Francis de Sales taught. Sister Mary Martha used the very things around her, even as he was apt to do, to enhance her prayer; in this case, the very dust she was sweeping!
On that occasion Jesus revealed His Heart to her all aflame with light, saying "Behold your strength. Come and receive Me. I will be as oil poured forth in your members to give you strength."
One day she said to her Superior, "Mother how true it is. Our Lord is always with me. How far I am from knowing how to make use of Him. But I have prayed to Our Lady and our Holy Founders and the good angels to kindly make up what is wanting on my part, and they have given me their promise. "Our Lord Himself taught her how to thank him. "I am in your heart. You have only to look on me and I will look on you and we shall be all day long with one another. This is your thanksgiving. My child, I want only your heart. Our hearts commune in love unceasingly." Sister Mary Martha had been obliged to cut short her formal prayer on that occasion, but the Lord showed her, and us! how to remain constantly with Him by prayer of the heart.
To Be continued