St. Claude de la Colombiere/Sacred Heart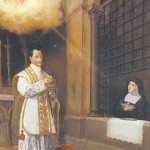 February 15th is the Feast of the Jesuit Saint Claude de la Colombiere.
http://www.visitationmonastery.co.uk/lifeclaude.html
A powerful bond united St Claude and the Visitation Nun St Margaret Mary in the accomplishment of a special mission: the establishment of devotion to the Heart of Jesus as a response to a deep need in an anxious and tormented world.
What does St. Claude have to offer to the Church today? The following prayer of St. Claude's summarizes his whole life:
Sacred Heart of Jesus, teach me perfect selflessness since this is the only path to you.
Since all I will do in the future will be yours, see to it that I do nothing that is not worthy of you.
Teach me what I must do to attain the purity of your love, the desire for which you have inspired in me. I feel within me a deep desire to please you but am completely powerless ever to succeed in this aim without a very exceptional light and special help that I can only expect from you. Accomplish your will in me, Lord. I know I resist it, but it seems to me that I would truly like not to resist. It is you who will have to do it all, divine Heart of Jesus Christ; the glory of my sanctification will be yours alone if I become a saint. This seems clearer to me than the light of day, but it will be a great glory for you and it is for that reason alone that I wish to desire perfection."
 St. Claude is the model of perfect charity for which we can seek his intercession. What can be more desirable than an unconditional love of God?
(Source: Perfect Selflessness according to St Claude de La Colombiere, by Father Gerard Dufour, 2004)
Apostleship of Prayer's Video on St. Claude here:
http://www.youtube.com/watch?v=39z_AKDC3zM
3 Responses to "St. Claude de la Colombiere/Sacred Heart"