Visitation Salesian Network Meeting
The Visitation Salesian Network works collaboratively with Visitation school communities to facilitate the formation of minds and hearts through the Gospel-based teachings of St. Francis de Sales and St. Jane de Chantal.
The next meeting takes place at the Visitation Academy in Frederick Maryland, March 29 and 30th 2012.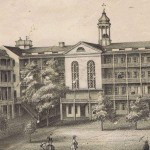 AND A SUCCESSFUL MEETING TOOK PLACE!!