April Mystic of the Month-Sr Maria Margit Bogner
The cause of the Servant of God Sister Maria Margit Bogner, of the Visitation Monastery of Erd, Hungary, is waiting to be discussed in terms of  the position on her virtues (Positio  Super Virtutibus) at a meeting of Cardinals and Bishops, while a study of an alleged miracle attributed to her intercession, is being developed Summarium, or as an abstract or summary.
Who was Sr. Maria Margit Bogner?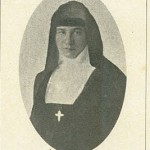 She was a Professed Nun of the Visitation Order of the Erd, Hungary community, and born in 1905.  Sr. Maria Margit lived merely 28 years, until 1933, and was a  contemporary of St. Faustina!
The prism of prayer of Sr. Margit reflects a deep interior life with Jesus and a particularly profound relationship with the Blessed Mother, exhibiting an intimate style of praying the liturgical cycles.
Her devotion was primarily Eucharistic. One June, she seemed to realize this and spoke in prayer to the Lord about it:
"Jesus, I feel that it is in your Eucharistic form that I must preferably love You. Your small sanctuary lamp must be consumed before the altar. O my Jesus, I ardently desire to prostrate myself more often before your tabernacle, to love you, to speak to you of my tenderness as I would do in heaven, where I would embrace your feet. Up there, my Jesus, one always loves you, one always adores you, but here, within the tabernacle, you are so alone, you are offended there."
Sister desired to do for God what others could or would not do. Sister Maria Margit also had a well developed relationship with our Blessed Mother. She expressed holy confidence and a desire for progress in perfection, in a practical way, in a prayer she wrote before the Feast of the Visitation.
"Very Holy Virgin, today, the Feast of our Holy Order, together we promise, because without you I do not dare to do it, we promise to your divine Son, my Spouse, that the Magnificat will be the response  to all that you will send me; no complaint will escape my lips, even if my heart must suffer much, even if nature revolts. O very Blessed Virgin, help me then with a big heart to sing the Magnificat!"
Her missionary zeal for others was infectious and her ministry of prayer took the form of an outreach to the missions.  Her goal was souls and in the midst of her intimacy of union with God, she never forgot this goal. Listen to this delightful way she expresses her missionary role:
"It was a beautiful evening of summer, and joyously Sister helped to water the kitchen garden. She had already refreshed a quantity of vegetable plots.  The Superior observed her at her window. When Sr. Margit she saw her, she exclaimed:"Oh my Mother, how many small Chinese I baptized". This thought made her forget heat and tiredness. "The missionary colonies of a Visitandine do not have borders. Today, I baptize in China, tomorrow in America. I sow the seed of the faith everywhere but I help also the missions of Europe, today here, tomorrow over there. Where the Visitandine passes, hearts blaze up like the lamps in the night. She must cross the world and seek souls, by her small sacrifices, to lead them to Jesus. He counts on us. Let us not cause him disappointments; He must recognize us in souls. Our vocation is the redemption of souls." 
The deep and affectionate intimacy, the outpouring of emotion in her prayer to her Beloved, did not obscure the love she had for her neighbor, all over the world. She was an ardent missionary and declared it to be not only her own vocation, but that of all Visitandines. She never lost sight of her outreach as an essential value of her prayer ministry.
She died in 1933.