St. Francis de Sales and the ROSARY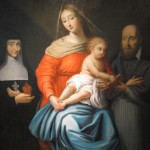 As we begin the month of May, our Blessed Mother Mary's month, we'd like to share St. Francis de Sales' devotions to and doctrinal understandings of Our Blessed Lady. Loving devotion  to Mary pervaded the thought and heart of this Doctor of the Church.
Many Catholics make a committed effort to pray the Rosary more frequently during this month. Why not pray it the way St. Francis de Sales and his Episcopal household did while he was Bishop in Annecy, France?
On the first three small beads St. Francis de Sales asked Mary's intercession,   " greeting her on the first bead as the most dear daughter of God the Father; on the second one as the Mother of God the Son; and on the third as the well-beloved spouse of God the Holy Spirit."
Then pray the 5 decades of any of the four mysteries of the Rosary;  Joyful, Sorrowful, Luminous or Glorious,  as is traditional.
At the end of your rosary, return again to the 3 first beads as St Francis de Sales did, and ask the Blessed Virgin on the first bead "to offer your understanding to the eternal Father so that you may always consider his mercies. On the second bead entreat her to offer you yourself to her Son, so that you may continually think on his passion and death. On the third bead you will beseech her to offer your will to the Holy Spirit so that you can forever be on fire with His holy love."
As Founder of the Order of the Visitation of Holy Mary, St. Francis also advised the Sisters, "I want the rosary said every day with as much love as possible."
Source: The Mariology of St. Francis de Sales, by Edward J. Carney, OSFS, pages 8 and 9; Opuscules XXVI, 234, 235
Mariology, page 12; Letter CCXXXIV, XII, 358