Visitation Vocation Directresses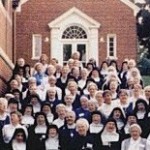 The Visitation Order of Holy Mary joined in the special day of prayer for vocations on Sunday April 29th.
If you are discerning a monastic vocation, you may contact the Vocation Directresses of the Second Federation of Visitation Monasteries here:
Brooklyn: Sr. Marie de Chantal smdecvis@aol.com
Georgetown: Sr. Mary Berchmans: berchmans@visi.org
St. Louis: Sr Catherine: srcbrady@visitationmonastery.org
Mendota Heights: Sr. Brigid Marie brigidk@vischool.org
Minneapolis:Sr. Katherine: katherinefmullin@gmail.com
For the First Federation, please go to this link: 
http://visitationspirit.org/links/
We invite you to learn more of the Visitation Order on EWTN.
On May 9th 2012, the Second Federation President will be interviewed by Fr. Mitch Pacwa on his weekly, evening program EWTN LIVE!  She will speak on the 402 years existence of this worldwide Order and its meaning in the world today, also sharing about the eleven monasteries in the USA, both Federations. Call-in with your questions during the program!