"May Our Lady Live!
The motto of the Visitation Order is "Live+Jesus". It is  taken from St. Francis de Sales sentiment expressed in the Introduction to the Devout Life, that he wished above all else to engrave in the hearts of his readers these very words, "Live Jesus"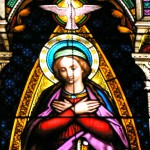 A parallel phrase is used by St Francis to indicate imitation of God's Mother: "May Our Lady live!"
He  guides us, " We must behave like Our Lady and St. Joseph. We must be calm in our trouble and leave our Lord remove it from us when it pleases him. We must consider the most holy Virgin's and St. Joseph's peace and calmness of mind in their steadiness and the unexpected events which happened to them."
Union with Christ and His Mother best sums up St Francis' idea of imitation of Mary. His own association with her is expressed by his resolve to have no other heart except the one she gives him.
Dedicate each day to The Blessed Mother and ask to be under her protection. To consecrate yourself to Christ completely abandon yourself into the arms of Mary.
" Put your heart back again between her hands- this sweet Mother of hearts, this Mother of holy love, this Mother of the heart of hearts."
Source: The Mariology of St. Francis de Sales, by Edward J. Carney OSFS, Pages 64, 70