Solemn Profession at Brooklyn Visitation
Joyfully praising the Lord for the gift of a religious vocation, the People of Praise Choir led a congregation of over 150 family,  friends and guests to witness the Solemn Profession and taking of final Vows of Sr Gail Trinite, in the Visitation Monastery of Brooklyn New York.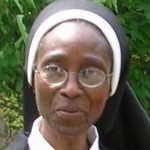 The Bishop  presided over a liturgy concelebrated by many priests, with the priest homilist  weaving the Gospel readings and Salesian Spirituality together in a lively sermon.
Sister Gail Trinite was welcomed into the Visitation community by each of its 19 member Sisters, and afterwards all shared in conversation and refreshments with the guests.
May God grant that our new Sister be led gently by God's hand according to His holy will as she lives out her vocation as a Visitandine.