St. Francis de Sales & the Sacred Heart
Today, June 7th, the Novena to the Sacred Heart begins in preparation for the Feast on June 15th.
The Founder of the Visitation Order, St. Francis de Sales, inspired  his community with great devotion to Jesus' Heart. It was in a letter to his co-foundress, St. Jane de Chantal, that he gave this distinct orientation to the new community, in 1611: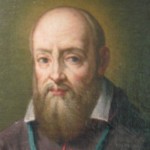 " I believe, dear Mother, if you are of one mind with me, that for our coat-of-arms we will choose a heart, transfixed by two arrows and ringed by a crown of thorns. Let it be surmounted by a cross upon which will be carved the holy names of Jesus and Mary. It was our Savior, when he was dying, who gave us life by the opening of his Sacred Heart."
Source: The Sacred Heart Yesterday and Today
PRAYER: SACRED HEART OF JESUS I PLACE MY TRUST IN YOU.