Brooklyn Visitandines Welcome Sacred Heart Director
On Thursday July 12th, the Sisters of the Visitation of Brooklyn were delighted to welcome Fr. Peter Gillen to the Monastery for an afternoon of meetings and to celebrate the Eucharistic Liturgy with some other special guests.

Father Peter was recently named by Reverend Bishop Nicholas DiMarzio as Director of the Sacred Heart Devotion in the Brooklyn Diocese.
The charism of the Sisters of the Visitation places a unique emphasis on Devotion to the Sacred Heart, as it was to a Visitandine, St. Margaret Mary Alacoque, that Jesus appeared to in the 1600′s in France to ask for love of and reparation to His Loving Heart.
The Brooklyn Monastery, in addition, was the first in the United States to establish the association of the Guard of Honor of the Sacred Heart, in the 1880′s. The members of this Association  pay great reverence to the wounded, pierced Heart of Jesus. The association is in the process of being revived and updated.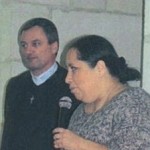 Fr. Peter joined the Sisters in welcoming some special guests from France whose international mission is to spread devotion to the Sacred Heart: Father Edouard Marot, Mrs. Alicia Beauvisage and her daughter, Maria.
Agape Center Founders Lou and Terry Durante, promoters for the Guard of Honor, also participated in the meetings and Mass.
Mrs. Arlene Figaro, Principal of Visitation Academy and Mrs. Carol Sharon, Administrative Assistant, also worshipped at the Liturgy presided over by Fr. Gillen and concelebrated by Fr. Marot.
In March 2011 Mrs. Figaro hosted a retreat with the French priest for students and parents and has deeply encouraged devotion to the Sacred Heart among the Visitation student body.
Together we hope to continue to enflame loving devotion to Jesus and His Heart in the Brooklyn Diocese.
One Response to "Brooklyn Visitandines Welcome Sacred Heart Director"