Upcoming Beatification-Ven. Louis Brisson, OSFS
Scientist, Skeptic, Spiritual Leader
and
Founder of the Oblates of St. Francis de Sales
Part 1
SCIENTIST
Yes, a unique scientist will be beatified on September 22, 2012!
His most notable invention? – an astronomical clock!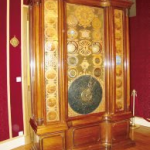 One evening when he was watching the stars in the skies, Father Louis Brisson thought of building this astronomical clock, whose dials would not only mark time but also the movement of the stars through space and the hours of the tides for navigators.
He succeeded and won a silver medal in 1860 at an exhibition in Troyes, France, for it. The clock still works today!
It was not his only invention. This priest-scientist also created a clothes dryer for the laundry and an efficient system for running large kitchens.
Given his scientific genius and deep faith, Fr. Brisson never evidenced gullibility. As all good scientists, he preferred fact to sentiment and could be a skeptic at times.
SKEPTIC?
One particular incident illustrates it. He himself told the story to his Oblate confreres in 1898.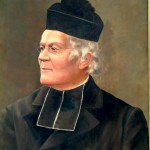 "When I went to see the holy House of Loreto, I noticed that all the people around me were in tears. I decided that I would have no part in that kind of demonstration, but before I left I was in tears just like all the rest. However, they showed me a little plate that, according to tradition, had been used by the Child Jesus. It looked exactly like the dishes they used to have for sale at the market place of Sexanne.
The enamel was too thin; a knife would leave a mark on it. After all, I said to myself, they'll never make me believe this. Touch the plate with my Rosary? Me? No, never.
A few days later, at Naples, amongst the relics found at Pompeii, and preserved in the Museum, I ran across dishes identical with those at Loreto.
Now I was convinced and when I went back by way of Loreto, I too, touched the Child Jesus' little plate with my beads." 1
No, Fr. Brisson was not gullible, but he was open, humble and very down to earth!
SPIRITUAL LEADER
It is heroic virtue of course, that makes the blessed and the saint. Fr. Louis Brisson lived the Spiritual Directory heroically. This directory, initiated by St. Francis de Sales, guides an Oblates' every moment with a specific  intention placed before God. Fr. Brisson gave many conferences on living this Directory,which laity as well as religious can follow.
He advises from an 1897 conference: "Let us therefore practice the Directory in everything we do, so that we may be  completely united to God in everything we do. In preaching, in catechetical instruction, in hearing confessions, the rock-bottom foundation and basis of our doctrine and of our direction of souls should be our union with God by our Directory.
The Church approves our directory. It takes in the whole of life for the sole purpose of giving that life to God. It is completely directed to Our Lord. St. Francis de Sales takes every act, every exercise, every minute,  every second and consecrates them all to God." 2
FOUNDER AND THE "VISITATION CONNECTION"
Fr. Louis Brisson, with the encouragement of Mother Mary de Sales Chappuis, the Visitandine Superior of the Monastery in Troyes,  founded the communities of the Oblate Sisters of St Francis de Sales and the Oblates of St. Francis de Sales (Priests and Brothers).
To be continued : 
http://visitationspirit.org/2012/07/beatification-pt-2-ven-brisson-the-good-mother/
1. From the Conference, ON RISING, Feb 18, 1898
2.From the Conference, UNION WITH GOD, Oct. 27, 1897
Source: So Much, So Soon by Katherine Burton