Holiness and St. Francis de Sales
Sunday night's chat evolved into a very interesting discussion about holiness, especially as evidenced in saints, and common virtues that sometimes seem to be opposed by that very sanctity. When does God's manifest will supercede an act of human obedience, for example?
This short excerpt from St. Francis de Sales may begin to help us understand growth in holiness as we explore these questions in the Living Jesus Chat Room.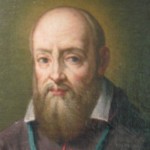 St. Francis de Sales explains,  " Virtues found in God's friends, even though they may be only moral and natural in themselves, are ennobled and raised to the dignity of holy works by reason of the excellence of the heart producing them.
In a heart that is God's friend all virtuous acts are dedicated to God. If a heart has given itself, has it not also given all that belongs to it? Does not a man who gives away a tree without any restrictions also give away its leaves, flowers and fruit?
The just man shall flourish like the palm tree; he shall grow like the cedar of Lebanon. They that are planted in the house of the Lord shall flourish in the courts of the house of our God.
Since the just man is planted in the house of God, his leaves, flowers and fruits are grown in it and are dedicated to his majesty's service.
 Asunder your heart with holy penitence and put the love of God within the cleft.Then engraft on it whatever virtue you wish, and the works that spring from it will be perfumed with sanctity without need of any other care.
God so favors his lovers that he cherishes their least little actions because of whatever good they contain, and ennobles them in a surpassing way by giving them the title and quality of holy deeds!
When virtues are found in a heart endowed with holy love, then they not only belong to God, ..but they have been rendered fruitful and precious in the eyes of his goodness.
"for those who love God, all things work together unto good."
Source: Treatise on the Love of God, Book 11,Chapter 2
2 Responses to "Holiness and St. Francis de Sales"