A Salesian Advent: Week 1
Advent with Blessed Louis Brisson, OSFS
Blessed Louis Brisson was deeply connected to the Sisters of the Visitation.
Founder of the Oblates of St. Francis de Sales, Blessed Louis Brisson was born on June 23, 1817, in Plancy, France, and was ordained a priest on December 19, 1840.
He began as an instructor at the Visitation Monastery's Boarding School in Troyes, France. He then became chaplain to the Sisters of the Visitation.  Mother Marie Therese de Sales Chappuis, the superior, told him many times that the Lord wanted Louis to found a society of priests who would live the Spiritual Directory of St. Francis de Sales and promote Salesian Spirituality.  Brisson refused; Chappuis was persistent in her demands. One day after again arguing with Mother Chappuis, Christ appeared to Louis.  As he looked into the Lord's eyes, Louis' heart was converted and he gave his consent to follow the Good Mother's direction. He was beatified on September 22, 2012.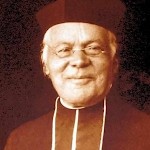 We invite you to spend your Advent absorbing his spiritual wisdom.
First Week
Sunday December 1
Advent is the time of the Way, the time which is given to us to go before Our Lord by prayer, renouncement, and fidelity.
Let us remember that what we have come to seek on earth and what we ought to find here is God.
Monday December 2
The time of waiting is a time of merit and happiness.
My God, I desire you. Come into my soul. For You, I accept pain and mortification.
Tuesday December 3
The time of Advent is a time of great grace. It is a time of expectation desire and preparation, a time of holy joy, a time of hope.
Wednesday  December  4
During Advent  we must help our soul to a tender devotion to our Lord, by asking Him to come to us and by always going before Him.
Thursday  December  5
During the Holy season of Advent, one rereads the pages of Holy Scripture, the history of the Patriarchs and Prophets,  Along this road there is much to cull and gather up.
Friday  December  6
Go before the Savior, before all the designs of His will  and Providence.
Saturday  December  7
During this holy season of Advent, each morning upon awakening, consider that this day is offered and given to you to go before the Savior as the Shepherds and Magi. Promise the Savior faithfully to do the smallest thing  with Him and it will go well.
Sunday December 8
"Advent means coming. This time is set aside to help prepare us for Christmas. These four weeks of Advent represent the four thousand years that preceded the coming of the Messiah. Throughout these many years the prophets announced the coming of Our Lord. In reading their prophecies we find all the details of His life and sufferings described in advance with as much accuracy as if they had already taken place."
"There are two advents of the Lord. The first is his great advent when He came to this earth to save us. He willed to come to us little, humble and unknown. He was born poor to show us that poverty is no disgrace. He willed to be a workingman to teach us to love work as He loved it."
"The second advent of Our Lord is made in our hearts. Evert time we have a good thought, every time that we take the Good God with us, every time that we make an act of fidelity, every time that we are all His, an advent takes place…" (Cor ad Cor, p. 13)
Source: Oblates website and A Collection of Thoughts of Fr. Louis Brisson for Each Day of the Year by the Oblate Sisters of Perugia