Advent Advice from the Guard of Honor
Dear Friends and Guards of Honor,
Here we are in this season of Advent so dear to children who are growing impatient waiting for Christmas. As already proposed by our founder , Sister Marie of the Sacred Heart Bernaud in her time , we too could enjoy this time given by the Church to prepare our hearts. Follow firmly but cheerfully , this advice to fight against some of our faults and welcome our Savior in a purified heart :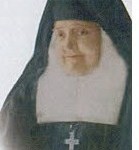 DOMINANT FAILURE
Since the fall of Adam , the human life is a constant struggle for every soul that wants to rebuild , to develop and achieve eternal reward . In this spiritual strategy, it is necessary to use multiple weapons to reach a full and final triumph. However, one of the most effective is to fight our predominant fault .
All of us in fact,  have a weak side , more prominent than others and that stands stubbornly against the work of our sanctification. This is called the dominant defect. If virtue  dominates us we can achieve a high degree of perfection , the dominant  fought fault can lead us to our doom . It is therefore important to know the predominant fault , to fight with energy.
To achieve this knowledge, it is important to be honest with yourself and look in the mirror , determined to accept the revelation that often is an unflattering result of this internal inspection. Let us remember what topic skillfully brought the complaints  addressed by our parents in our childhood and later warnings of those around us,and  we shall soon see our weak side . However, if we still hesitate to name the Goliath that drives us , consult a spiritual director , a sincere friend so they can  enlighten us .

And once our predominant fault is  identified deploy all our energies and resources to defeat him. First, use prayer because without it we can not do anything but  with this powerful weapon , we become invincible. Then , let's place this fight  under the special protection of the Blessed Virgin and Saint Joseph , or Guardian Angel or some saint. In the morning make  a quick glance at the opportunities of the day when we may succumb and arm ourselves,  willing to not fail . Remain alert and at noon , already do an examination of conscience to see our victories or defeats . Continue our journey until the evening and start again our discussion by asking forgiveness for our failures , and still pray to strengthen us in our resolutions.
It is a long process that may last weeks, months or even years, but when the enemy  will be struck down , the rest becomes easy. So do not get discouraged , good will with the help of grace is omnipotent. Thus, in this life , we shall reign in ourselves, overcome our evil nature and our soul and devour deliciously " this hidden manna to which  God gives victory . " (Sr Mary of the Sacred Heart Bernaud )