The "St. Bakhita's" of the Visitation Order
Last year we shared about a young girl named Josephine, http://visitationspirit.org/2013/02/ahmna-josephinethe-visitation-orders-st-bakhita/ who like her more famous counterpart, St. Bakhita, was rescued from an abducted life in Africa and brought to a Visitation convent in France, where she attained holiness.
There were at least four young girls that we know of, placed in Visitation convents under similar circumstances.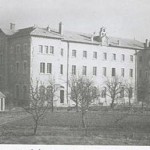 This year we share about Marie Kaisale, who was rescued and placed in the Visitation Monastery of Bourg-en Bresse, France (also noted for the origin of the Guard of Honor there).
We share a summary of her life story:
It was on the Feast of the Immaculate Conception that Father Nicolo Olivieri (Servant of God), founder of the Pious Work of Redemption  brought to the Visitation Monastery of Bourg en Bresse and received by Mother  Marie Julie, little Marie Kaisale.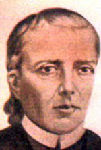 From the first interview, she  revealed  her ardent nature  and her sensitive heart.
She was  affectionate to all the Sisters, and though she of course did not know French, her intelligence helped her guess the meaning of the words spoken to her and in her ingenuity found ways to respond. She was given a room ( the Monastery had a school and boarders at that time.)
Relatively soon, the Sisters invited young Marie to be a catechumen in preparation for baptism. She already evidenced signs of faith hope and charity.
One evening, there came a violent storm, with thunder and lightning. Marie was frightened but then she took courage with this thought: ", God has brought me here to be a Christian, no, He will not make me die before I have received baptism. " A peaceful sleep came soon.
Eight months after entering the house, her day of baptism came. The ceremony opened at 8 am. The local authorities honored her with their presence and a few people distinguished by their rank and their piety also attended. The  neophyte stood dressed in a rich costume, in a modest dignity; Boarding students sang for her.
The priest asked some questions which she answered with firmness and assurance with a tone of voice that indicated she knew the meaning of the words she spoke.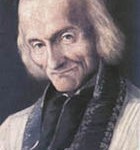 One of the most outstanding events of her short life was her visit to the Cure of Ars, St. John Vianney. She had developed an ardent desire to go back to her native land and be a missionary. A pious lady friend accompanied her to meet the Saint. She met him in the sacristy while her pious lady friend stood in the doorway in case Marie would be too shy to speak. But her help was not needed! Marie talked with great ease to the Cure of Ars. She visited with him a second time while there. What did they discuss? Apparently her missionary desires. The Cure said of her:
"What a child! treasures of grace that God has put in her soul! " He blessed her with loving-kindness.
He also advised her:  "Remain in the holy house where you have the good fortune to live; you're too young to realize this desire. "( to be a missionary)
At the time of her later illness, Marie remarked, ""Ah! I: understand well now why the Cure of Ars talked so much about heaven and why he told me, "My child, go to all community services that you are able to attend. " These words are often returned to my mind in certain circumstances and they encouraged me-a beautiful blow. "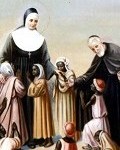 However, as happened to many of these rescued children, she eventually got very sick in her new environment and was facing death. Growing in holiness, she would say  aspirations. The last night, the dear child, who felt that her end was near, made ceaseless aspirations, she spoke aloud in a tone of piety impossible to describe. How many times during the last night she repeated: "Jesus, Mary, Joseph, "I give you my heart, my mind and my life and the rest. "
When the signs of death were manifest, The Sisters  very strongly pulled the bell  of the infirmary, and the Superior ran to her side.
A few moments after her death, a celestial serenity reposed over her. Her face seemed to radiate beatitudes of glory, all eyes were struck by joy and happiness radiated around her smiling face and lips.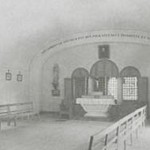 Her body was laid out in  the choir while we celebrated Mass on the first Friday of the month. Associates of Perpetual Adoration of the Divine Heart attended the Mass, and M. Morand, took the opportunity to convey  what he had witnessed in the last moments this privileged child.
Marie Kaisale, of Africa and of France,  went home to God  on Sept. 2, 1858, approximately 17 years of age.
Five years later Mother Mary of the Sacred Heart Bernaud founded the Guard of Honor in this same Monastery.
Historically it was a blessed privilege of these Monasteries of the Visitation to help nurture these young girls who had been abducted within their countries of origin on the continent of Africa. Visitandines were able to do so because at that time they had boarding schools for girls.
Today the Visitandines no longer have boarding schools, but we continue to pray for all trafficked children. In the several day Academies we do continue to operate, service projects for our students would be an appropriate place to learn about contemporary and similar tragedies.

Sources: Notice sur Marie Kaïsale, jeune négresse, décédée le 2 septembre 1858… dans le monastère de la Visitation Ste-Marie de Bourg-en-Bresse . (Signé : D. S. B.)
http://www.youscribe.com/catalogue/livres/litterature/notice-sur-marie-kaisale-jeune-negresse-decedee-le-2-septembre-1858-2225566
http://www.suorerossello.it/page.asp?id=101030001