Advent in the Monastery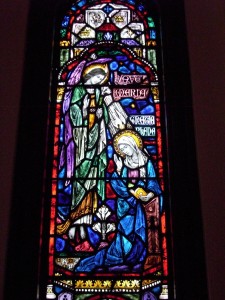 This evening we begin the most reverent and mystical season of Advent.
The Monastery is a silent stronghold of prayerful preparation as Sisters move about, getting the Advent wreaths and candles into their holders, setting out the Advent blessings, changing their Divine Office breviaries to Volume 1, in blue, choosing Sunday's Advent hymns and heartfully anticipating the grace of this holy season before the commemoration of Christ's birth.
Within, we will prepare our souls with appropriate Advent spiritual reading, both privately and in the refectory, modifying our consumption with a moderate fast from treats, and praying the exquisite antiphons and psalms of this holy time.
Jesus is coming, once again, in memory as a baby and in the present with His peace-filled blessings for each one of us inhabiting our world, so often in tension.
Jesus, who so wants us to live in Him and for Him and by Him, calls us to remember, proclaim and live Him.