April Reflections of the Guard of Honor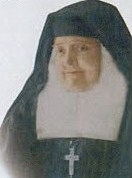 Christ is risen, Christ gives us life and pours waves of mercy! What can we miss when we become aware of this extraordinary gift? Our foundress, Sister Mary of the Sacred Heart Bernaud, offers us this reflection for this month.
 The gift of God!
"If you knew the gift of God" (Jn4,10)!
The ineffable Heart of Jesus addressed these words to the sinner of Samaria at Jacob's well where she came to draw water! But who will reveal this royal gift from the liberality of God or God himself? A gift, nothing belongs to us legitimately;God has given us his only Son as gift. Therefore, Jesus Christ has become our possession, our property. It is undeniable! But if the noble Son of God is for me, who can hurt me?
He is not only the Good, but the " ALL GOOD "! If I am poor, He is my treasure; if I am weak, He is my strength; if my foes attack me, He is my shield. There is also with this royal gift  Heaven, we can  at every hour of the day, offer thanksgiving and love as we abundantly fulfill all our duties towards God! We also solicit for us and for all our brothers the most remarkable favors. Could  God could refuse a soul who embraces her Divine Son and asks Him for the help and blessings that are necessary?
It is a suffering to this adorable "God-gift" that He is so little known, appreciated and so rarely craved. Abandoned in his Tabernacle, Jesus Christ constantly offers Himself to God the Father for us, but He expects us to offer ourselves too, Let us avail ourselves of this priceless gift:  Jesus for us, all of us! What infinite mercy, which supplements our shortcomings, what recourse in all our affliction! In the words of St John of the Cross, we are assured that "Jesus has everything! "And with the Bride of the Song of Songs we can say with confidence:" My beloved is mine and I am all for Him! "(Sr. Mary of the Sacred Heart Bernaud)