December Dates Significant to the Visitation Sisters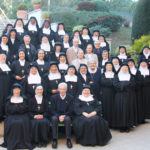 December 8, 1602: Episcopal ordination of St. Francis de Sales in the church of his baptism in Thorens
December 13, 1641: death of St. Jeanne de Chantal at the Visitation de Moulins
17 December 1887: birth of the servant of God Mother Maria Angélica Alvarez Icaza in Mexico City
December 18, 1593: priestly ordination of St. Francis de Sales.
December 27, 1673: 1st of the 3 great apparitions where Jesus reveals his Sacred Heart to St Margaret Mary
28 December 1592: Jeanne-Françoise Frémyot's wedding with Baron Christophe de Rabutin Chantal
December 28, 1622: Death of St François de Sales in the house of the gardener of the Visitation of Lyon
End of December 1862: A letter from the Visitation of Annecy invites all the Order to show more zeal to spread the devotion to the Heart of Jesus. Shortly after, at the Visitation of Bourg-en-Bresse, the Community invites Sr Marie of the Sacred Heart to seek how to respond to this call of the Lord.