Feb Dates Important to Visitandines
February 2: Presentation of Jesus in the Temple, day of prayer for Religious of apostolic life.
2 February 1641: birth of Saint Claude La Colombière near Lyon.
February 15, 1682: death of Saint Claude La Colombiere.
15 February 1730: death of the Venerable Anne-Madeleine Rémuzat of the Visitation of Marseille.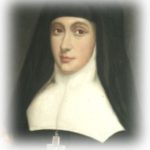 February 27, 1884: Blessed Marie de Jésus Deluil-Martiny, first zealot of the Guard of Honor and founder of the Daughters of the Heart of Jesus. She was assassinated by a former gardener, in her convent of the Servianne in Marseilles.