Salesian Family to meet in Annecy May 8 for celebration of St Francis de Sales' 450th Birthday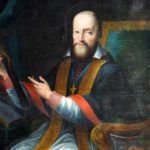 The Visitation Sisters are not the only heirs of the spirit of St. Francis de Sales. Over the centuries new religious families have emerged in the Church: laity associations or priests, united in this particular way of living the Gospel. Meeting them at Thorens-Glière (birthplace of François de Sales) on the occasion of his four hundred and fiftieth anniversary is an event!
On Monday, May 8, in Thorens-Glières, Salesian families will meet for a great family reunion: the Visitation monasteries, Salesian families and institutes, missionaries, Oblates, priests and laity of the different Salesian families, to celebrate the 450th anniversary of the birth of Francis de Sales. A festive day organized by the Commission of the Salesian families of the diocese of Annecy.

http://www.infocatho.fr/grande-reunion-de-la-famille-salesienne-a-loccasion-du-450-anniversaire-de-la-naissance-de-saint-francois-de-sales/

Among the branches of this great tree will be present:
Les Missionnaires de Saint François de Sales  – www.florimont.ch/fr/congregation
Les Salésiens et Salésiennes de Don Bosco  – www.salesien.com
Les Oblats et Oblates de Saint François de Sales :- www.osfs-france.net
La Société des Filles de St François de Sales –www.francoisdesales.com/filles-de-saint-francois-de-sales
Les Salésiennes Missionnaires de Marie Immaculée – www.francoisdesales.com/salesiennes-missionnaires-de-marie
Les Prêtres et les Fils de St François de Sales – www.francoisdesales.com/-Pretres-de-Saint-Francois-de-Sales-
L'Institut séculier de St François de Sales – www.coopdonbosco.be/sales/pa12.html
Les  soeurs salésiennes de la Visitation – salesiennes-visitation.org
Les volontaires de Don Bosco – www.volontariedonbosco.org  
Les coopérateurs salésiens – coopsfrance.blogspot.ch