"Love is the perfection of the mind
"Love is the perfection of the mind."
Salesian Studies presented to ALEXANDER T. POCETTO, O.S.F.S. on the occasion of his 90th birthday Edited by Joseph Chorpenning, OSFS and Thomas Dailey, OSFS and Daniel Wisniewski, OSFS forthcoming, June 2017 ————————————————————————————————————————————————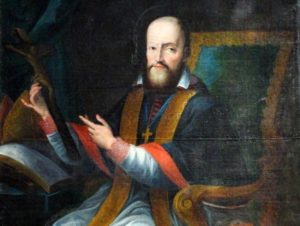 ST. FRANCIS DE SALES (1567-1622), Bishop and Doctor of the Church, famously describes the human being as a microcosm of the universe, in which "mind is the perfection of man; love is the perfection of the mind; and charity is the perfection of love." This teaching also beautifully characterizes the life of Fr. Alexander ("Sandy") Pocetto, an Oblate of St. Francis de Sales whose work, as priest and professor, has advanced the appreciation of Salesian Christian Humanism, to the benefit of people around the world.
On the occasion of Fr. Pocetto's 90th birthday this year, an international group of scholars who specialize in Salesian studies contributed to a collection of essays in his honor (a "festschrift"). Former students, university colleagues, and Oblate confreres have joined forces to explore a variety of subjects near and dear to his loving mind. His academic interest in these areas of study and his living example of these Salesian themes provide the impetus to this publication, which is presented in tribute to one who, in the tradition of his Salesian patron, has taught so many what it means to be who you are and be that perfectly well.
Along with a bibliography of his writings and a postscript on his career (by Daniel Gambet, OSFS), the book includes essays that touch upon core topics in Salesian Spirituality:
 on St. Francis de Sales
o "From Francis to Francis: How a Saint & a Pope Share a Vision of Preaching" (by Thomas Dailey, OSFS)
o "Francis de Sales: A Humanist Biblical Theologian of the Renaissance" (by Terence McGoldrick)
 on the Visitation of Holy Mary
o "Order of the Visitation of Holy Mary: Witness to a Catholicism of Douceur" (by Thomas Donlan)
o "St. Jane de Chantal and Grief" (by Daniel Wisniewski, OSFS)
o "The Visitation Stream of Salesian Spirituality" (by Wendy Wright)
 on the Introduction to the Devout Life
o "Mystagogy and Emblematic Thinking" (by Joseph Chorpenning, OSFS)
o "Reflections on Salesian Christology" (by Christian Krokus)
 on the Treatise on the Love of God
o "Affairs of the Heart: Salesian Prayer" (by Eunan McDonnell, SDB)
o "The Women of the Old Testament" (by Suzanne Toczyski)
—————————————————————————————————————————————————— The work is published by the Salesian Center for Faith & Culture at DeSales University, where Fr. Pocetto has taught since its opening in 1965 and where he continues to serve as the Senior Salesian Scholar.
pre-publication sale (order before June 15th) = $25 + $3 shipping // publication price = $35 + $3 shipping
The book is distributed through Embraced by God at DeSales Resources and Ministries: to order your copy, contact EbG by email (resources@EmbracedbyGod.org) or by phone (1-800-782-2270).