Salesian Anniversary and Pilgrimage in the Footsteps of St Francis de Sales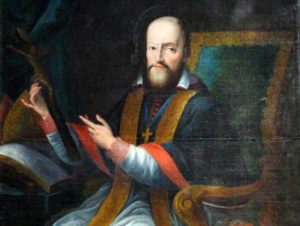 The Salesian Days are 50 years old!
The Salesian Days are open to all those who, lay, priests, religious, couples, families, young people, students, wish to live a spiritual approach in a friendly and fraternal sharing. Pilgrimage session on the footsteps of Saint Francis de Sales at Annecy, Thonon, Thorens, Saint-Germain.
This year the Salesian Days are 50 years old! They will take place from 10 to 14 July 2017.
The opportunity to take a retrospective look at a long and patient work of exploring the rich work of Francis de Sales, in order to make it speak to our contemporaries, beyond the reductive cliques. The opportunity is also to return to the source by putting, 450 years later, our steps in those of the illustrious Savoyard, born on August 21, 1567 in Thorens, near Annecy, in the Duchy of Savoy.
The days are organized by the Association RES (Research and Salesian Studies) and the Oblates and Oblates of Saint Francis de Sales. They are held at the Jean XXIII Center in Annecy-le-Vieux.
Program of these days:
Monday 10th July – Annecy-le-Vieux – Center Jean-XXIII – Welcome at 16h
Opening of the session: Jean-Luc Leroux, osfs, president of the RES association and Philippe Legros, author of "François de Sales, a teacher in pedagogy"
The Salesian Days of 1967 with the creation of the association RES
The RES Association and the Salesian Days today
Opening Mass
Evening: DVD: Morning Sentinels, François de Sales and Jeanne de Chantal
Tuesday 11 July – Thonon-les-Bains.
Speaker: Alain Dufour, Doctor H.C. of the University of Geneva, publisher of the Correspondance de Théodore de Bèze
The Lord of Avully, Theodore de Beza and Francis de Sales: a dialogue between Catholics and Protestants at the end of the 16th century.
Mass at the Visitation of Marclaz
Guided tour: Anne-Marie Baud, fma-sdb
Châteaux of the Allinges,
Salesian places in Thonon
Wednesday 12 July – Annecy. Speaker: Bernard Podvin, psfs.
Assistant for France of the Visitation Federations
François de Sales as a whole in his episcopate: an actuality of a holiness and a passion
Mass at the Visitation of Annecy
Guided tour: Christian Regat, honorary president of the Salesian Academy. Salesian places of Annecy
Evening: General Assembly of the association RES
Thursday 13 July
Hermitage of Saint Germain de Talloires
Speakers: Thierry Mollard and Pierre Bayle, osfs
François de Sales and the Hermitage of Saint Germain Sharing a meditation on "The Introduction to the Devout Life" by François de Sales
Thorens-Glières. Guided tour: Anne-Marie Baud, fma-sdb – Chapel of Sales, castle of Thorens
Mass at the church of Thorens-Glières
Evening friendly: Savoyard meal
Friday 14th of July Annecy-le-Vieux Center Jean XXIII
Speaker: Philippe Annaert, Doctor of Arts, Professor at the Theological Institute of Brussels.
François de Sales, Reform Bishop and Founder of Order
Conclusion of the Salesian Days:
Jean-Luc Leroux and Philippe Legros
Closing Mass – End of the J.S. at 2.30 pm
More information and registration here. http://www.diocese-annecy.fr/haute-savoie/sur-les-pas-de-francois-de-sales/actualites/journees-salesiennes