Visitandine Days of Importance during July, Around the World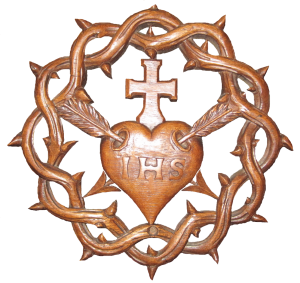 July 2, 1688: Original Day of the Feast of the Visitation. At the time, St. Margaret Mary contemplated the Heart of Jesus, surrounded by the Virgin Mary, St. Francis de Sales and Father La Colombiere. The Visitandines and the Jesuits were given the mission of spreading the worship of the Heart of Jesus.
July 12, 1977: birth in heaven of the Servant of God Mother Maria-Angélica Alvarez Icaza of Mexico City
15 July 1865: Dedication by Monsignor Mermillod, Auxiliary Bishop of Geneva, of the Chapel of the Visitation of Nantes.
19 July 1630: Arrival in Nantes  of the 8 founding sisters of our Monastery.
19 July 1810: after 18 years of dispersal caused by the Revolution, the Visitandines of Nantes resume Monastic life on the site of the former Chartreuse.
20 July 1685: the first feast of the Sacred Heart by the novices of Paray-le-Monial on the day of their Novice Directress's Feast
July 22, 1647: birth of St. Margaret Mary at Verosvres on the feast of St. Mary Magdalene
On this day the indulgence is granted to the usual conditions to the members of the Guard of Honor