Visitandine Superior and French Filmmaker =Powerful Short Film on Sacred Heart&Eucharist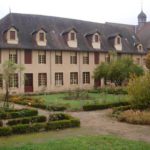 Natalie Saracco's new short film is about the Sacred Heart of Jesus.
She left two film projects (one on the life of Jesus) to meet the request of the Mother Superior of the Visitation Monastery in Paray-le-Monial and the head of the Guard of Honor at the Sacré- Heart of Jesus: to make a video to make known and love the Heart of Jesus. The short film, produced at the end of May in Montmartre, was broadcast on the Internet via a Youtube channel created for the occasion during the festival of the Sacred Heart on 23 June 2017. It will be translated into various languages ​​in order to spread widely through social networks all over the world.
Read the interview here(in French)
https://fr.aleteia.org/2017/06/18/natalie-saracco-une-cineaste-amoureuse-de-jesus/
Or View the Film , with English subtitles, here: https://www.youtube.com/watch?v=z0ZSVxUyO3U