American Servant of God was a Visitandine in Georgetown & Carmelite in Spain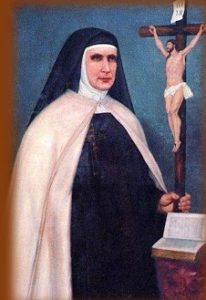 Juana Adelaida O'Sullivan and Rouley was born in New York, United States, on October 8, 1817 to a Catholic father and Anglican mother, being baptized in the Anglican Church. At a young age  the girl decided to become a Catholic. At the death of her father, both her brother and her mother wanted her to return to the Anglican Church, but Juan Adelaida was already anchored in Catholicism and remained in it. In 1840 she entered the monastery of the Visitation of Georgetown. In her life as a Visitation nun she discovered the writings of St. Teresa of Jesus and in her interior she made the decision to be her daughter. With the help of her confessor she was able to fulfill her desire and after some difficult and unforeseen ways, she arrived in Guatemala City on September 8, 1843, where she entered the monastery of Discalced Carmelites receiving the name of Maria Adelaida de Santa Teresa. In 1868 she was elected Prioress of the Community and as such had to face the expulsion of her community by the  liberal reforms  in 1871. Realizing the impossibility of re-inhabiting her monastery, she undertook, with a group of sisters, an itinerary that took her to Cuba, the United States and finally to Spain, reorganizing the Carmelite-Teresian life in Grajal de Campos (León) in 1882 and passing away there on April 15, 1893.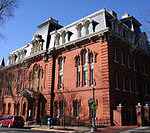 As Visitandines we are especially interested in this Servant of God's early years in the Visitation and how she was formed.
At first Adelaide was a student at the Georgetown Visitation high school, wishing  to perfect herself in music.  There she found new and powerful  stimuli for her  fervor in the midst of those Good religious, and the desire grew more and more in her Soul  to give itself to God, to surrender completely to that divine Spouse, who so softly and powerfully drew her heart. It was not much time she spent in school; but the benefit she gained from the lessons and examples that they gave her and a profound memory of distinguished schoolgirls was immeasurable.
She kept friendships with the religious and schoolgirls, and visited many times accompanied by her sister Mary, especially visiting Sister Stanislaus,  and the notable Cuban Leocadia Zamora, a student then,a  Carmelite, later. She exhibited to these good friends the sad situation in which she felt  the danger to which she was exposed  and the plan she had to retire to that holy house, although she  found rude opposition in the family. But it was necessary to take the most difficult step, the consent of the family.
Adelaide strove and gave the last farewell to the family and went  alone to the Visitation.She had not yet reached that holy retreat,when she heard a horse gallop behind her. She saw  her brother riding fast to prevent her from entering the convent.  Adelaide needed all her strength and courage not to faint with terror; carrying her hands to her bosom and holding the crucifix against her heart, she exclaimed: "If it is your will that I live withdrawn, do not let my brother reach me", and continuing in her ordinary step, saw with astonishment that, in spite of the speed that brought her brother,he did not reach her.  He threw her a gold watch that she had given him one day , with these words: "Come on, thankless sister, one day you will regret it. Imagine  what waves of feeling and bitterness touched her tender and generous heart.
She at last regained the serenity of her spirit and tried to take advantage of the grace that God granted to enter that sacred asylum, before whose walls  crashes the raging waves of the world, which wrap in their frothy and roaring folds so many miserable children of the century.
Adelaide was calm, hoping that after the first  impressions, the family would finally agree to
her stay in that Congregation.  It did not happen, unfortunately; the family  insisted on  opposition; Some times the family, mainly Juan, did  visit  Adelaide, always with the purpose to persuade her to abandon her retreat; but they always returned with no hope of her doing so. She had asked several times to be allowed the Holy Habit but the Prelate, most brilliant Bishop of Baltimore, considering the rude opposition of the family and knowing the   threats of Don Juan, did not allow it. It was a long time until  this grace would be granted and when she saw her mother's spirits and brothers had calmed down, she insisted on her request. They no longer had difficulty in granting it, and she was finally able to see her wishes come true. When Dona Maria and Don Juan saw Adelaide with the humble Habit of religious, they considered it useless to insist anymore .
Great was  the progress she made in virtue under the direction of the zealous P. Várela. She started to run like a doe thirsty to quench herself  in the sources of living water, the thirst for love that devoured her soul. Prayer was her food and her most ordinary occupation: her heart was burning .  The Blessed Sacrament,which she received frequently,  communicated heat and life to her spirit and carried her to the quiet region in which Christ communicates to his chosen ones
ineffable delights. Jesus Crucified was the favorite object of her thoughts and her affection, and his Sacred Heart the place of her shelter and rest; as if she were already aware God had destined her to travel the road to the Bridegroom of blood.
These sublime feelings in her  soul were translated abroad into acts of all the virtues. She was considered the last of all and
she treated all with humility, meekness, and sweetness; she was obedient, obsequious, simple.  The Visitation Sisters admired the rapid progress of Adelaide in perfection, confessing naively that where she began, many conclude.  Wanting to have in her body a visible seal of her consecration to God,she took a hot iron and, with incredible patience and strength, she engraved upon her breast a cross and three Nails,  "Put me as a seal upon your heart,. In her humility she took care of having it always hidden, until some years later, on the occasion of an illness she  suffered, being a religious in Guatemala, the Pious secret was discovered by the Carmelite nuns.
Those precious timbres of her great love was Crucified Jesus. Such fine trials of charity could not remain without great reward from the Lord, whose liberality  is shown with generous souls. Since that memorable day she began to feel in her  soul vivid desires to make an entire sacrifice to God.
Adelaide read  the works of St. Teresa of Jesus, which had been  provided by her confessor, Fr. Várela. She became very fond of St Theresa and tried to copy in her heart the high virtues of which she gave such admirable examples and to constantly follow their tracks. These feelings were fanned day by day in her heart and worried her constantly. God Our Lord  also wanted to manifest  by an extraordinary way the acceptance of her desires. She began to have dreams and visions in which she was presented to St Teresa surrounded by nuns, who called to her. She consulted  with her confessor,who, after mature examination and observation, did not hesitate to assure it that God's will that this is her vocation.
Adelaide's ineffable gaiety hearing the decision confirmed by the authorized voice of the Minister of the Lord, helped her prepare to follow this new vocation as Carmelite as soon as possible. There would be  two principal purposes, to consecrate perpetually  to Jesus Christ,  and to offer herself as a victim for her mother and brothers, whom she  loved tenderly, and whom, unfortunately,were not Catholic. God rewarded her sacrifice with the conversion of her brothers  So she entered the Carmelite Order.
Source: http://bibliotecadigital.jcyl.es/bdter/es/catalogo_imagenes/grupo.cmd?path=10066879