Salesian Successors in Switzerland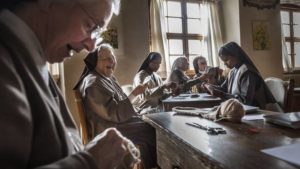 The Visitation Monastery of Solothurn closed.. The monastic life in the monastery is now carried on by an Indian sisters' community.
372 years ago the first sisters of the Visitation moved into Solothurn. The Sisters of the Sisters of Sacred Sciences (SSS), which is  from India, will be given the "key" from the last Visitandine Sister Marie-Dominique Bucher,  This is the end of the era of the Visitation sisters in Solothurn.
In 1610 the Order of Visitation Ste. Marie "(Visitation of Mary)was founded  by Francis deSales and Jane Frances de Chantal in Annecy. Shortly afterwards, the two only Visitation monasteries based in Switzerland were founded: 1635 in Freiburg and 1645 in Solothurn. After the first monastery building located in the Obachquartier had been demolished because of the construction of the castle, the sisters in 1679 moved into the present monastery on Grenchenstrasse.
In 2007, the sisters' congregation handed over the monastic buildings and monastic buildings, which had been completely renovated, to the Episcopal Association Basilea, which manages the diocesan properties. "We took this step to preserve the Baroque Bijou for the city and the canton, and to free a subsequent sisters' community of the property," explains Sr Marie-Dominique, who presented this project together with the deceased predecessors Marie-Jacqueline and Marguerite-Marie Has.
The 82-year-old Visitandine was still in office until the end of the month of May. She is the only  sister in the Visitation at this monastery; Sisters Marie-Hélène and Marie-Pascale are staying in Elisabethenheim on the Bleichenberg. With the handing over of the key, she will give the responsibility to the Indian Sisters and she is happy that the monastic life will continue as a semi-contemplative homeland of a religious order.
Markus Thürig said, "The Sisters of Sacred Sciences live their vocation in contemplation and in their apostolate, the religious instruction of adults, and the accompaniment of spiritual retreats. I hope that this Sisters' Community can keep the Salesian spirit alive in the Solothurn region. This would be an appreciative continuation of what the Visitation have lived here for centuries. "
SSS Generaloberst Sister Siji has been living in the monastery of the Visitation since 2003 and studied theology in Friborg. She is looking forward to the new task: "There will be little change to the outside world. We advocate that the spiritual place be preserved. As before, we offer Eucharistic celebrations, retreats, reflection, daily worship and educational programs. Our mission is to be responsible for the monastery and religious life. Just as we are told by Francis de Sales, "Bloom where you are planted."
The Order of the Sisters of Sacred Sciences (SSS) was founded in 1997 by Salesian Antony Kolencherry. He has also been living in Solothurn since 2003, is a pastor in Lommiswil and active as a spiritual advisor in the monastery. Father Antony: "The spirituality of Saint Francis de Sales is our common heritage and has brought us together. This legacy must be preserved. The spirit of the founder is continued according to the charism of the SSS religious community. "
Many believers in the region appreciate the young community, Vice-President Erwin Angehrn: "In addition to the support of the local sisters, we have always been committed to a" good future "of the SSS in the monastery. Now the sisters' community must increasingly assume responsibility for the sustainable development of their lives.  "One of the goals  was to preserve the monastery as a spiritual place of encounter. Father Antony confirms this: "The Visitation should continue to be an oasis of silence, meditation and prayer. "
He hopes that young Swiss women will enter the Order and live Salesian spirituality. This coincides with the hopes of Sister Marie-Dominique, : "The service is public. We have not invited anyone, but we welcome everyone who is connected to us. »
Source: https://www.solothurnerzeitung.ch/solothurn/stadt-solothurn/die-letzte-visitantin-uebergibt-den-schluessel-an-indische-schwestern-131359896#