Visitandines of Rio Cuarto Celebrate 25 Years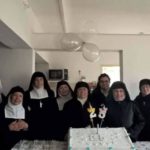 During the Holy Mass for the silver jubilee of the Sisters of the Visitation in the Diocese of Villa de la Concepción del Río Cuarto, the bishop, Monsignor Adolfo Uriona FDP, assured all that having the presence of a monastery of contemplative life is a "Great Grace of God".


In his homily, the bishop stressed the importance of having a monastery of contemplative life in the diocese: "Not all dioceses have it and the contemplative life is necessary to look at  always from a perspective of faith, because it is not easy to understand," he explained. .
"People ask themselves, now that everything is calibrated for the effectiveness of the things of this world: why the sisters are there locked up, why not go out to give catechesis or pastoral work. Precisely that misunderstanding of the contemplative life is related to the incomprehension that there is  the Kingdom of Heaven, "said the Bishop.
Monsignor Uriona considered that "change in the world happens from the action of the Grace of God. Obviously it chooses us as instruments and within the Church there is an immense variety of charisms and works, but what will ultimately change history, is the Grace of God that is sustained mainly from prayer, "he said.
In that sense, he said that the presence of the Sisters in the diocese, "is like a kind of lightning rod, which frees us just from the rays of evil through its contemplative and prayerful action."
"This praying action does this through the offered suffering of the daily routine. It is not easy to be inside these walls, every day, with the same people praying with a very regulated schedule. All this demands of an offering for the good of the People of God. That offer is made with the mystery of the communion of saints and by the merits of Jesus Christ on the cross and reaches each one of us, our diocese, the Church and the whole world, "he added.
In reference to the readings of the Mass, Monsignor Uriona recalled that the mission is carried in clay vessels: "You have a great mission, but that mission is in you, who are a vessel of clay. We are all containers of clay. The mission that you have, just have it in this poor, simple vessel, with weaknesses and difficulties.
In that sense, he indicated that awareness of this condition "does us good because it brings us closer to the Truth and because we will always be confident in the grace of God that operates from our poor means," he explained. The bishop, who recalled that the mission must always be in service.
Finally, Monsignor Uriona asked those present to pray for the Sisters of the Visitation for two concrete intentions: for the construction of their new monastery and for new vocations.
Source: http://www.aica.org/29515-mons-uriona-la-vida-contemplativa-es-una-gran-gracia-de.html