First World Day of the Poor
Pope Francis is inaugurating World Day of the Poor this upcoming Sunday, November 19, 2017 to re-enforce that concern for the poor is an essential part of our Catholic faith.
Our Founder St Francis de Sales, also had great concern for the poor and less privileged. In order to prepare for this day, here are some reflections from the Salesian perspective: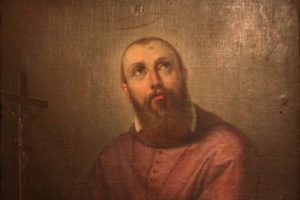 Put out your hand to strong things, exercise yourself in prayer and meditation, in receiving the sacraments, in exciting souls to the love of God, in infusing good inspirations into their hearts, and, in fine, in the performance of great and important works according to your vocation.  But never forget your distaff or spindle.  In other words, practice these low and humble virtues which grow like flowers at the foot of the Cross; care of the poor, visiting the sick, taking care of your family, with all the tasks that depend thereon, and with that profitable diligence which will not suffer you to be idle.  Great occasions of serving God seldom present themselves, but little ones are frequent.  Whoever will be "faithful over a few things." says the Savior Himself, will be "place over many things."  Do all things in the name of God, and you will do all things well.
IDL 3:35
he indifferent heart is like a ball of wax in God's hands, ready to receive all the impressions of his eternal good pleasure.  It is a heart without choice, equally ready for all things and having no other object for its will except the will of God.  It does not place its love in the things God wills, but in the will of God who wills them.  Therefore, when God's will is found in many things, it chooses, no matter what the cost may be, that in which more of it abides.  God's good pleasure is found in serving both poor and rich, but a little more in service of the poor.  The indifferent heart will choose the latter.
Love the poor and poverty, for it is by this love that you shall become truly poor.  As the Scripture says, we are made like the things we love.  Love makes the lovers equal.  "Who is weak," says St. Paul, "and I am not weak?"  He might likewise have said, "Who is poor, with whom I am not poor."  For love made him resemble those whom he loved.  If you love the poor, you shall surely partake of their poverty and be poor like them.
IDL 3: 15
I like the practice of visiting the sick, the elderly—women especially—and very young children.  I like the practice of visiting the poor, especially poor women—humbly and with kindness.
LSD 136
TLG 2, 9:4, 106-07
I approve of your abstinences on Friday, but without a vow or too much constraint.  I approve even more that you should work with your hands, as for instance spinning and so on, at times when you have nothing more important to keep you busy, and that your handiwork should be destined for the altar or for the poor; but not that you should do it so rigorously that if you happened to make something for yourself or your own people, you should tie yourself to giving the poor the value of it; for the most important thing is that a holy liberty and freedom should reign in us and that we should have no other law or constraint except that of love;
LST  113-14
It was a most extraordinary exercise of the holy monarch, St. Louis, to serve the most lowly and abject among the poor at his own table and to eat the remains of their food.  In his hospital at Bethlehem, St. Jerome entertained pilgrims from Europe who had fled from the persecution of the Goths.  He not only washed their feet but even abased himself to wash and rub the legs of their camels after the example of Rebecca, who not only drew water for Eliezer but for his camels as well.                                                                               TLG 2, 8:11, 84
AND FROM ST JANE de Chantal, our Foundress: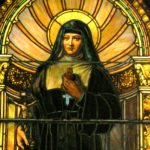 We must by all means have pity on the poor sick, we must show them all kinds of gentleness and charity, and spare nothing, when there is real necessity.  When a sister has been ill, we must have her taken care of and relieved till her recovery.  And when she feels that she is well again, she is to tell the superior that she feels able to follow the community, and that she no longer requires anything particular.
ASJ  435
Observe, my dear Sisters, that in order to satisfy our obligation to the Rule, it is not enough to receive aged and infirm women; but we must also treat, serve, and comfort them in all their needs with a complete charity, without ever growing weary or impatient at the continuance of their infirmities, at the labor and expense which may be required, and without complaining of it or showing any disgust towards them.  By so doing, we shall accomplish our Blessed Father's intention, and shall give occasion to the poor infirm to glorify God in their sufferings, which they ought to endure with gentleness, patience, and humility, to the end that the robust may enjoy the fruit of their patience.
ASJ 75
Whether poor or rich, noble or of low estate, perfect or imperfect, all are made the temple of God.  It follows that if we have the sight of this truth well imprinted in our minds, we shall honor and mutually respect each other alike, not in gestures, looks, and words, but in deed and in truth.                                                                                                                                                                                             ASJ 17
And when people remonstrated with him for being so easy of access that it made him waste time, as they pointed out, on unimportant people and negligible causes, he answered gently: "You call these little people unimportant, but they need to be listened to just as much as the great.  If someone is as worried by a trifle as another person would be by some really great matter, is that a good reason for not doing one's best to relieve his mind and send him away comforted.  Little things are just as important to poor people as great matters to the well-to-do.  Surely we owe ourselves to everyone alike?  They come to be comforted, so why shouldn't we give them all the comfort we can?"
TSC 65-67
There was a wonderful majesty in his (Francis') bearing and actions, but he was at the same time so deeply humble that he put himself within the reach of all.  The simplest peasants and the poor would go up to him, completely unafraid; he liked being with them and listening while they told him their little troubles, and he would often answer in patois so as to make them feel more at home with him.  He did not look down on anyone, however humble, he treated people in various stations of life honorably and as their rank demanded, never omitting to use their title as courteously as possible; he made this a rule for our order.  He used to say that no one could pay less attention than he did to receiving homage, nor yet, on the other hand, be so eager to render it.
TSC 84