Ministry at Annecy Visitation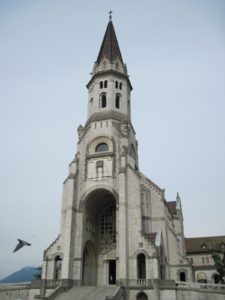 In Annecy, women take a break at the monastery


Three times a year, Christians find themselves in the monastery of the Visitation to relax outside the world.
Each quarter, about forty women gather for a day.

Each quarter, about forty women gather for a day.
They are forty to climb  to the Visitation on the heights of Annecy. Mothers, for many, these women are welcomed by the Visitandine community. "Some of us started to cry crossing the threshold, as if they finally felt free to let go," reports Melanie Rombaut, one of the four mothers who initiated this "Women's Break," a proposal from the Diocese of Annecy which started this summer"Back from the pilgrimage of mothers in Cotignac (Var), we felt the need to go further, and to be nourished spiritually more regularly," says this Annecy. They will knock on the door of the nuns, who agree to welcome them. "Saint Jeanne de Chantal was married, mother, before being a religious and founding the Visitation with Saint Francis de Sales," continues Melanie Rombaut. She went through all the states of life, it's inspiring for us. The nuns volunteered to prepare rooms for those who would like to lie down for a few hours, or take personal time in silence. The community thus serves women throughout the day. "According to an unknown charisma of the Visitation," Father Vincent Rossat recalls, "its founders wanted women to be able to enter the fence to recharge their batteries. "
It is this priest of the society Saint-François-de-Sales who accompanies the women in this "à la carte" day, during which the participants alternate teaching, spiritual exercises, time alone in the cloister, the garden, the chapel or the rooms.
After a day filled with prayer, participants can take time to accompany the priests who join Father Rossat in the afternoon. "We do not necessarily come to tell our life and our difficulties, says Mélanie Rombaut. But to recharge our batteries, to give meaning to our lives, to live our lives as women, mothers and wives, under the gaze of God. "
translated from article by Benevento Tosseri https://www.la-croix.com/Journal/A-Annecy-femmes-font-pause-monastere-2018-01-06-1100903880