Report on the 22nd International St. Francis Sales Days in Lourdes
---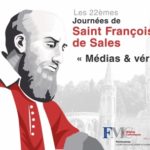 Report on the 22nd International St. Francis Sales Days in Lourdes
https://www.youtube.com/watch?v=ka13RDDDY9A
The 22nd Saint-François de Sales Days took place from the 24th to 26th of January 2018 in Lourdes.
From Wednesday 24 January to Friday 26 January, the Federation of the Catholic Media organized the St Francis de Sales Days, an annual meeting of Christian media and religious journalists. The theme of the meeting, this year was Media and Truth. This theme is at the heart of the worldwide, French and ecclesial topicality but above all, a key theme for the people involved in communication.
During three days, the participants were led to reflect on their mission as communicators, confronting their points of view and taking a step back from daily life which can be difficult sometimes.
More than 300 journalists, editors, publishers, communicators, marketing managers and church leaders gathered together… A record number of participants for the St Francis de Sales Days which shows that both the theme and the meeting place have widely mobilized.
The 22nd St Francis de Sales Days were exceptional in several respects:
First of all, for the first time it was fully international, which brings a change in viewpoint, highlighting the universal scope of the communicant's mission. With participants from 30 countries, from all continents: about fifty foreigners were warmly welcomed. Participants gathered from the Philippines, Vietnam, Slovenia, Hungaria, Germany, Spain, Italy, the USA, Jordania, as well as Malta, India, Paraguay, Argentina but also from Ghana, Nigeria, Congo, Togo, Burkina Faso and Mali.
The Federation of the Catholic Media is particularly pleased with this participation.
After having been created in Thonon les Bains in 1996, then held for 17 years in Annecy, St Francis de Sales's hometown, this year for the first time the event took place in the city of Lourdes. Under the watchful eyes of St Bernadette and of the Virgin Mary.; women who have managed to carry a caring, humble and true message successfully; no Fake News in Lourdes, no false news, but simply the Truth.
The conference was, for the first time, co-organized by the Secretariat for Communication of the Holy See, represented by Bishop Dario VIGANO. Along with a partnership with Signis, whose president, Helen Osman, was present.
The participants were thus able to walk under the gaze of Pope Francis and, under the gaze of another Francis: St. Francis de Sales. Well known as a famous preacher and committed theologian who became bishop of Geneva and Annecy in 1602
The famous preacher, bishop of Geneva and Annecy in 1602, is well known to the public. The newspaper man : for he is the first to have printed passages of Gospels and sermons on parchments and to have slipped them under the doors of his city of Annecy, to spread the Word. The first Catholic newspapers in the world were born. This is why St. Francis de Sales was chosen as the patron saint of journalists and writers.
Friday morning was one of the most emotional moments of these three days with the celebration and awarding of the Father Jacques Hamel Prize. The prize for journalism awarded by the Federation of the Catholic Media was presented to the winner Samuel Lievin by Cardinal Pietro Parolin, Secretary of State of the Vatican. Roseline Hamel, the sister of Father Jacques Hamel and jury member, was also present in memory of her late brother.
This new edition of the St Francis de Sales Days seems to be a success, with a lot of laughter, emotions, intelligence, encounters and professionalism that have once again highlighted the importance of the professions of journalist, publisher and communicator. All gathered around this beautiful theme "Media and Truths".
Jean-Marie Montel
President of the Federation of the Catholic Media
Wedenesday 24th of January
Truth's multiple facets
"A true person should be marked with four virtues: sincerity, accuracy, courage and prudence." Karsten Lehmukuhler
Roundtable discussion moderated by Christophe Henning (Pèlerin)
There is no unanimous agreement neither about the nature of the concept, nor the way to think it through. There is no consensus as to the classic definition of truth, and even the ones who could agree on it, cannot agree upon its specification or its implications. Overall, the question « what does the truth, mean? » is always open. Philosophical disagreements on the way in which we consider the truth shall not prevent us from identifying most truths.
With the participation of:
Marco Tarquinio, Director of Avvenire, daily newspaper of the Italian Bishops' Conference.  Italian journalist and expert in national and international politics. He started his career in 1981, at La Voce the weekly Catholic newspaper of Umbria, his native region. After that, he wrote for Corriere dell'Umbria, held a political column for La Gazetta and then became Il Tempo's Politics Editor in chief. In 1994, he joined Avvenire, first in Milan then in Rome. He became its Director in 2009.
Vincent Morch, philosopher. After being a teacher in Africa, he is today working in publishing (Belles Lettres) and published with Salvator: Petit éloge de la vérité- Manifeste pour un humanisme chrétien 
Pr Dr Karten Lehmküler, Theology Professor at the Protestant Faculty of Theology at Strasbourg. He is also a researcher at the Doctoral School of Theology and Religious Sciences as well as at the Sociology of Religions and Social Ethics Center (comparative theology and ethics of speech).
Thursday 25th of January
The splendour of truth
"Our intuition of life must show the invisible" Father Henri-Jérôme Gagey
"Truth is necessarily linked to freedom." Sister Véronique Margron
Roundtable discussion moderated by Philippine de Saint-Pierre (KTO)
Holding firmly to the accuracy and discourse of truth in these "deconstructive" , "postmodern" times (many other adjectives could be used to qualify our times) is the best testimony Christianism can express.
With the participation of:
Nataša Govekar, Director of the pastoral theological Department of the Office in charge of the Holy See's communication. She was born in Slovenia and studied theology in Ljubljana. She holds a PhD at the Pontifical Gregorian University with a thesis on "the transmission and communication of faith through images." After a time spent at the Centro Aletti, a study and research organization created by John Paul II in 1993 for bridging East and West churches, she was appointed to her current position by Pope Francis.
D. Jose Gabriel Vera, Director of the Office for media and communication for the bishops' conference in Spain since 2015. He has published with Eunsa: Jean-Paul II, tout le monde t'aime in 2012.
Henri-Jérôme Gagey, Professor at the Theologicum, faculty of theology and religious sciences of the Paris Catholic institute, where he was Dean. He was also Vicar General of the Creteil Diocese. He published with Salvator: Les ressources de la foi
Grégory Woimbée, Priest of the Perpignan diocese, Doctor in history and theology. He has a degree in canonical law and teaches fundamental theology at the Catholic Institute of Toulouse, where he is the Vice Rector. He published with Artège Editions: Leçons sur le Christ. Introduction à la christologie. He writes also regularly for La Vie.
Véronique Margron, Professor of moral theology at the West Catholic University (Angers), Provincial superior Dominican sisters of the presentation since 2013. She published with Bayard Culture: Quand la Bible raconte nos histoires d'amour
The uses of truth
"We must go out and meet people to tell their stories. Moral truths must be the foundation of our work as journalists."
Helen Osman
"Our only language of truth should be our commitment and action." Amelie de Montchalin
Roundtable discussion moderated by Antoine-Marie Izoard (Famille Chrétienne)
Politics and economy have their own language, far removed from common everyday life. Their focuses are as much on perceptions, appearances and feelings than on facts, numbers and rational arguments.
How do we go from the subjective register of perception to the objective register of facts and at what cost?
With the participation of:
Helen Osman, American expert in communication. She was elected President of Signis (World Catholic Association of Communicators) the 22th of June 2017. Helen Osman is recognized worldwide for her work as a writer and journalist. She has held various leadership positions in the Catholic communication field in the US. She was Communications Director for the Diocese of Austin for over twenty years, after which she was Chief Communications Officer of the United States Conference of Catholic Bishops for eight years.
Jérôme Fourquet, political scientist, director of the "Opinion and business strategies" department at the polling organization Ifop. He published with the Editions de l'Aube: Accueil ou submersion, regards européens sur la crise des migrants.
Amélie de Montchalin, economist with a degree in history and applied economy and a master in public administration. She is deputy of "La Republique en Marche" in the sixth electoral district of Essone.
Jérôme Chapuis, co-editor in chief of the Political news desk of the Grand Jury RTL- Le Figaro – LCI from 2012 to 2015. Editor in chief at RTL and anchor from 6am to 7am.
Friday 26th of January
Father Jacques Hamel Award
The death of the Father Jacques Hamel (who was murdered by terrorists), the 26th of July 2016, while celebrating mass in the chapel of St-Etienne-du-Rouvray arouses strong emotions and a substantial involvement for an interreligious dialogue The Federation of The Catholic Media has recently decided, in order to honor his memory, and to support all initiatives for peace in general and for interreligious dialogue in particular, to create the "father Jacques Hamel Award" meant to reward a quality journalistic work serving this cause. With a jury chaired by Msgr Dominique Lebrun, Archbishop of Rouen, and composed of Roseline Hamel, sister of Father Jacques Hamel, Dominique Quinio, former editor of La Croix and president of the Social Weeks, Christian Makarian, deputy editor of  L' Express, and Jean-Marie Montel, president of the Federation of the Catholic Media. The prize is awarded to Samuel Lievin for his article "Thomas and Benoît, les convertis du 13 novembre", published in the daily newspaper La Croix. The jury also awarded a special mention to Michael Bunel and Romane Ganneval for their book/reportage/exhibition "Croire dans le 93".
Truth and objectivity
"There's not less truth but a new way to produce it." Cyril Lemieux
"In our days, the "truth" is a machine to produce emotional effects." Mariette Darrigrand
Roundtable moderated by Martin Féron (RCF)
Information ethics refers to a value which is nonexclusive but prevailing: that is the truth. This value clearly guides the code of journalistic ethics: "seeking for the truth", "respecting the truth"… It conditions journalistic objectivity which is a recurrent topic among professional and the public.
With the participation of:
Rev. Dr Joseph Borg, Director of RTK, Catholic radio of Malta. Holding a Master Degree in Theology from the University of Malta. He has also completed graduate studies in communications at Concordia University in Montreal (Canada). He is one of the promoters of the study of media education in Church schools. Head of the Press Office of the Archdiocese he is also the founder of RTK radio and the newspaper IL-GENS. He is known for taking action in the fight against corruption among the elite, especially after the murder of the whistleblower, Daphne Caruana Galizia, who had denounced the abuses of the Prime Minister, his family and some member of his staff.
Mariette Darrigrand ,specialist in semiology, director of the firm specialised in analyses of the media rhetoric: Des Faits et Signes. Blogger and commentator (France Culture, Le secret des sources), She regularly intervenes in the media. She also gives classes at Paris 13 on the topic of books semiology. She published Comment les médias nous parlent (mal)?
Cyril Lemieux, specialist in sociology, Director of study at the School of High study in Social Sciences (l'École des Hautes Etudes en Sciences Sociales, EHESS). He is greatly interested in journalism and the digital information age, and a large part of his work is focused on media and public space sociology. Columnist for Le Monde, France Culture, Libération and Alternatives économiques, he published, among others things, La subjectivité journalistique in 2010.
• Isabelle de Gaulmyn, born in Casablanca in 1962, is a French journalist and biographer. She is now editor-in-chief of the Catholic daily newspaper La Croix, after serving as its special envoy in Rome from 2005 to 2009. Specialized in Church news, she is regularly invited to speak in various media. She is the author of a biography of Benedict XVI and Pope Francis and a book on pedophilia in the Church of Lyon
Audio of Conferences (French only)
Wed 24 Jan 2018
Les visages de la vérité
Thur 25 Jan 2018
La splendeur de la vérité 
Les usages de la vérité 
Fri 26 janvier
Remise du prix Père Jacques Hamel  
Vérité et Objectivité
Source: http://www.medias-catholiques.fr/edito