Looking for a Spiritual Director? Having difficulty finding one?
Why not turn to a profound guide- Jesuit Father Jean Pierre de Caussade, who guided many Visitation Sisters and wrote deeply spiritual letters about the interior life to them?
We will post and chat about common concerns of the spiritual life, using Fr. de Caussade's letters as sure guides to growth.
A spiritual battle we all face is temptations– daily! and almost as often, distractions in prayer.
Here is how Fr de Caussade would advise us, as he wrote to a Visitandine:
Point for discussion:
How do we understand "holy contempt" today? Is endurance with humility a stance we can resonate with?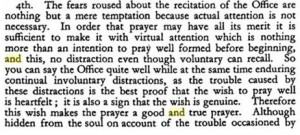 Comforting, perhaps, is it to you to know that this celebrated director said that our initial intention before prayer is enough to make it meritorious before God, despite distractions during prayer?
How have you typically dealt with your distractions while praying?
Source:
http://books.google.com/books?hl=en&lr=&id=m4ImLQbSAZwC&oi=fnd&pg=PA1&dq=de+caussade+and+visitation&ots=DtAmMjZgs3&sig=ApGWDqNq-ghVsREwR-7KWybE1wE#v=onepage&q=de%20caussade%20and%20visitation&f=false
Come discuss this at our chat session Sunday September 7th at 730PM est.