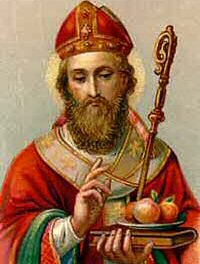 St Francis de Sales had a deep devotion to the great St. Nicholas and generally preached on his feast day. In 1619 he spoke with much fervor from Scripture " "For the needy shall not always be forgotten, nor shall the hope of the afflicted forever perish" Ps 9:19
He applied these words to the life of St Nicholas, and his large congregation promised to have a greater devotion to him.
St Francis de Sales was miraculously saved after intercession to St Nick on the sea, on his first trip to Italy. On two other occasions he was endangered on the Lake of Geneva and on the Rhone and St Nicholas' intercession prevented disaster.
Source: Every Day with St Francis de Sales by Francis Klauder, SDB