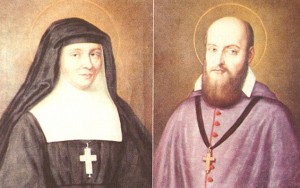 Both Jane de Chantal and Francis de Sales firmly believed and taught that holiness was cultivated by striving to live in the present moment This means not only should we abandon ourselves to God's will but also we should give up our natural tendency to worry needlessly about the past and the future. It  means that we should not worry about how much time we have to serve God, but to serve him well at each moment.
Living in the present moment means living each moment as an offering to God, accepting what he sends at the time, and lovingly meeting him in every event, person and situation that comes our way. As Francis said and Jane constantly preached by word and example: "At every event we should exclaim, Dominus est! It is the Lord; and we should feel each circumstance of our life as a special gift from him."
Reflection questions:
How can we put this ideal of living in the present moment into practice?
What are some of the benefits of living in the present moment?
What can we learn about ourselves when we strive to live in the present moment?
APPLICATION
Scripture
Oh, that today you would listen to his voice. (Psalm 95:7)
He said to them, why are you afraid? Have you no faith? (Mark 4:40)
When Jesus came to the place, he looked up and said to him, "Hurry and come down for I must stay at your house today." (Luke 19:5)
See, now is the acceptable time; see, now is the day of salvation! (2 Corinthians 6:2)
Jane's Words
We must live in the present moment without forecast and care for ourselves.
We cannot always offer God great things, but at each moment we can offer him little things with great love.
Believe me, if in all simplicity you receive whatever is presented to you in food, clothing or other things, embracing all the contradictions that come your way, they will be as profitable, more profitable than the austerities you desire to practice.
Look to God, forget self and all else to please him.