Scholars' Corner
UPCOMING CONFERENCE SEPTEMBER 2018 on St Jane's relatives:
Bussy-Rabutin.
Female Horizons

Information published on 20 November 2017 by Marc Escola (source: Myriam Tsimbidy)

May 10, 2018

Castle of Bussy-Rabutin
Study Day
Saturday, September 8, 2018 at the Château de Bussy Rabutin
Female Horizons
In this fourth centenary of his birth, the Society of Friends of Bussy-Rabutin and the Center for Research on Classical Europe (EA 4593 CLARE, University Bordeaux-Montaigne) have chosen to devote the study day they organize the
Saturday, September 8, 2018 to the Female Horizons of the author of the Histoire amoureuse des Gaules.
Listed in the extension of literary Horizons and libertines (Rabutinages n ° 24 and n ° 26), this meeting will be the occasion to approach the feminine figures in the life and the work of Bussy.
The presentation of these is indeed too often demarcated from the works, whereas they could inspire them or contribute to their elaboration (Maxims of love, History love, Collection of letters to the king) and that they often occupied
a respectable position in the life of the court and letters.
The day is therefore intended to bring to the foreground personalities who make the richness of the work of Bussy and, in doing so, to help to grasp its complexity while nuancing the portrait of the writer, the letter writer and
from the master of the castle.
First of all, it is necessary to complete the evocations proposed by the memorialist of his two wives: Gabrielle de Toulongeon and Louise de Rouville, so as to better understand the place he has successively given them in his writings in the first person.
It is then a question of attaching to emblematic figures, starting with Mme de Sévigné.
While the complexity of the relationship between the letter-writer and his cousin has been widely described, there may have been a lack of awareness of each other's understanding of the love that the other person had for one of them.
his children, nor the fact that Madame de Grignan held a relatively regular correspondent with Bussy.
This close association explains in part why Mme de Coligny, her daughter and zealous collaborator of the last part of the work, eclipsed the touching figure of Diane Jacqueline, a visitingandine at the convent of the Faubourg Saint-Antoine, as well as that
from Charlotte, abbess of Prâlons …
It was then Madame de Montglas: at the heart of Bussy's novel and satirical work, Iris, Belise and the Infidel, she left by her participation in the precious society literary, architectural or decorative elements that illuminate
the personality and evolution of the exile?
It is still Mademoiselle de Montpensier who also experienced exile and with whom he builds a friendship that crosses time.
Beyond, his desire to gather in his house of Bussy the portrait of all his beautiful friends, testifies with superb strength of the links he has woven with remarkable women by themselves as much as by their relationship with him.
However, just as he developed his work after his exile, so too, he was able to renew his friendship with Mme de Scudéry and establish new relationships (Mrs Bossuet, but also, later, Mrs de Maisons).
So many female figures to study.
The feminine horizons thus want to re-examine the rabutine gallantry which does not hesitate to pin the false prudes and coquettes in the name of the sincerity and the authenticity of the feelings, while studying the nuances of these honest friendships made of confidence and
sometimes loving affection.
The twenty-five-minute papers will be published in Rabutinages, the Society's journal.
Proposals should be sent before May 10, 2018 to:
Christophe Blanquie (Society of the friends of Bussy-Rabutin) ch.blanquie@outlook.com
Myriam Tsimbidy (CEREC / CLARE) myriam.tsimbidy@u-bordeaux-montaigne.fr
New Salesian Works available online:
Thomas Worcester, "St. Francis de Sales and Jesuit Rhetorical Education," in Traditions of Eloquence: The Jesuits and Modern
Rhetorical Studies, ed. Cinthia Garnett and John C. Berenton
(New York: Fordham University Press, 2016), 102-15. A close reading and important analysis of Francis's 1604 letter on
preaching to André Frémyot in its historical context.
The Sweet and Gentle Struggle: Francis de Sales on the Necessity of Spiritual Friendship
Terence A. McGoldrick
http://digitalcommons.providence.edu/cgi/viewcontent.cgi?article=1008&context=theology_fac
*****************************************************************************************************
SALESIAN SCHOLARS SEMINAR- OCT 20-23 2016 IN STELLA NIAGARA NY TOPIC: Salesian Scripture
++++++++++++++++++++++++++++++++++++++++++++++++++++++++++++++++++++
Two New articles:
Visitation: Mystery of Presence, Community of Women for Women
June 23, 2015 · Fr. Joseph Boenzi, SDB, volume 16, Journal of Salesian Studies
Read abstract here: http://journal.salesianstudies.org/author/boenzi/visitation-mystery-of-presence-community-of-women-for-women/
AND
Blending Christological Images: José Cayetano Padilla's The Sacred Heart of Jesus as the Good Shepherd
*************************************************************Education by Visitation Nuns in Spain: a paper in Spanish:
Patronato regio y preocupaciónpedagógica en la España delsiglo xviii: El Real Monasterio de laVisitación de Madrid
GLORIA A. FRANCO RUBIO
********************************************************
The Sweet and Gentle Struggle : Francis de Sales on the Necessity of Spiritual Friendship by Terence A. McGoldrick
http://digitalcommons.providence.edu/cgi/viewcontent.cgi?article=1008&context=theology_fac
****************************************************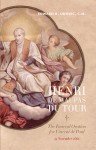 Just published! New work in English:
"Henri de Maupas du Tour: The Funeral Oration for Vincent de Paul, 23 November 1660."-by the Rev. Edward R. Udovic, C.M.,
Author also says it includes information about St Vincent's friends, St Francis de Sales and St Jane de Chantal.
Book Video: https://www.youtube.com/watch?v=PDO5XARmSrM&feature=youtu.be
******************************************************
New work in French: When Visitandines take the Pen: writings:
Quand les Visitandines prennent la
plume…
Écrit et écritures au sein de la Visitationsous l'Ancien Régime: parcours à traversles sources lyonnaises
*************************************************************
The late scholar Helene Bordes' entire work on the Sermons of St Francis de Sales are available here, in French:
The March 2015 edition of the newsletter of the International Commission of Salesian Studies is now online and its cover article by Fr. Ken McKenna, OSFS highlights The Treasure of St. Francis de Sales' Spiritual Directory.
You may access the newsletter here by clicking on the link, the clicking on "newsletters" on the banner, followed by clicking on March 2015.
http://www.franz-von-sales.de/icss_en/index.html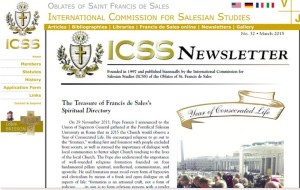 Book on the Visitation Monastery of Salo available on line, in Italian, here:
http://brixiasacra.it/PDF_Brixia_Sacra/Alle%20porte%20della%20citta.pdf
NEW DISSERTATION ON ST. JANE DE CHANTAL PUBLISHED IN 2014!
Authoritative letters: Jeanne de Chantal and feminine authority in the early modern Catholic Church
Abstract (summary)
The early modern period of a time of religious renewal and upheaval that resulted in a wealth of new religious orders, particularly those for women. During this period of change, Catholic women responded to the threat of Protestantism by adapting the convent to their own needs. One of the most successful orders for women was the Congregation of the Visitation, founded by Jeanne de Chantal and François de Sales. The history of the Visitation tends to focus on de Sales rather than its cofounder de Chantal. This thesis attempts to reconcile this omission, detailing de Chantal's ability to demonstrate and enact her authority through the mode of letters. In doing so, this paper enters into a conversation on religious revival in the early modern period by illustrating the porous nature of the early modern convent and the role women had in shaping early modern religiosity.
Author
Davis, Elisabeth C.
 *******************************************************************
Salesian Scholar Seminar will be held
October 8-12, 2014

at De Sales Resources & Ministries, Stella Niagara, NY. The theme is: Love in the Salesian Tradition and the Treatise on the Love of God. Please contact:

******************************************************************

The Director of Salesian Studies from the Institute of Salesian Studies in Berkeley, California would like to make you aware of a special project now in progress.

The Institute is trying to digitize the Journal of Salesian Studies to make it accessible and also to relaunch the Journal by August 2014.

For sample articles, please go to:

http://journal.salesianstudies.org/

To learn how you can help in this project, please go to:

First Deadline is January 24th 2014, the Feast of St. Francis de Sales!

Kickstarter here!

http://www.kickstarter.com/projects/salesianstudies/digital-republishing-of-the-journal-of-salesian-st
********************************************************************
New ICSS Newletter for November 2013 on St Francis de Sales and Vatican 11 : Click here then go to newletters then NOv 2013:
http://www.franz-von-sales.de/icss_en/index.html
********************************************************************************************************The The latest issue of the ICSS Newsletter is a wonderful testament to Salesian scholars and the recently beatified Blessed Louis Brisson, OSFS, Founder of the Oblates of St. Francis de Sales.
Full color photographs of the beatification ceremony in September 2012 accompany the scholarly and very interesting articles with these titles:
To Live with One Heart:Louis Brisson and the Salesian Pentecost
Wendy M. Wright
Notre Bon Père, Our Good Father:Fr. Louis Brisson in the Hearts of His Oblate Sisters
Sr. Anne Elizabeth Eder, OSFS, with the assistance of Sr. Susan Louise Eder, OSFS, and Sr. John Elizabeth Callaghan, OSFS
"[C]hoice and formation do not coincide":Fr. Brisson and the Foundation and Charism of the De Sales Oblates
Joseph F. Chorpenning, OSFS
History of the Cause of Blessed Louis Brisson
Sr. Madeleine-Thérèse Dechambre, OSFS
To access this newsletter, go to this link:
http://www.franz-von-sales.de/icss_en/index.html
click on newsletter and then January 2013 and you should get it.

*********************************************************************

Many of you have heard of St. Faustina and the revelations of the Divine Mercy of Our Lord Jesus.
But have you heard of the Apostle of Merciful Love, Sister Marie Teresa Desandais?
She was a Visitation Nun who also was given revelations of Merciful Love, a contemporary of St. Faustina, though a generation older.
Currently Spanish scholars are re discovering Sister Maria Teressa Desandais  and publishing articles and books, all in Spanish and French, at present. Two such scholars are:  Federico M Requena and Pablo Ramon Verdeja Fernandez.
Currently certain of the works are available on line:
Aproximación teológica al mensaje deMaría Teresa Desandais sobre el amormisericordioso difundido en España: http://dspace.unav.es/dspace/bitstream/10171/22319/1/Verdeja%20Fern%C3%A1ndez.pdf
RECEPCIÓN EN ESPAÑA DEL MENSAJE DE MARÍATERESA DESANDAIS (P.M. SULAMITIS, 1922-1942)
http://dspace.unav.es/dspace/handle/10171/5989
LA MISERICORDIA DIVINA EN LA ESPIRITUALIDAD CRISTIANA .
http://dspace.unav.es/dspace/bitstream/10171/9532/1/8.pdf
Book: Autobiography of Sister Marie Theresa:
http://www.lulu.com/content/livre-%c3%a0-couverture-souple/autobiographie/13223669
******************************************************************
Just Issued: Collection of Conferences from Paris; Nov 14, 15 2010
The Spirituality of the Heart, published by the College des Bernardins, in French.
********************************************************************
Read about the Salesian Scholars Seminar here:
http://livejesus.blogspot.com/2012/10/monday-post-conference-details-from-sr.html
*****************************************************************
Deep scholarly articles on St. Francis de Sales, here, in French; easily translated into your language of choice via computer:
http://www.cairn.info/revue-dix-septieme-siecle-2007-2.htm
Papers include:
Rereading St. Francis de Sales
[  First lines ] [  HTML Version ] [  PDF Version ]
Francis de Sales Mystical Anthropology
[  First lines ] [  HTML Version ] [  PDF Version ]
The Impossible Assumption François de Sales From Descartes
[  First lines ] [  HTML Version ] [  PDF Version ]
Bee and dove in meditation of St  Francis de Sales
[  First lines ] [  HTML Version ] [  PDF Version ]
Innocent love in the Treatise on the Love of God
First lines ] [  HTML Version ] [  PDF Version ]
*****************************************************************
Latest Newsletter of the International Commission  of Salesian Spirituality:
http://www.franz-von-sales.de/icss_en/index.html
Then go to NEWSLETTER tab for the newsletter
*******************************************************************
The 2012 Salesian Scholars Seminar will take place at DeSales Resources & Ministries, Stella Niagara, NY on October 18-21, 2012.
The theme of the 2012 Seminar will be:  "Pentecost in the Salesian Tradition"–a topic that is understood in the broadest sense so as to encompass a wide range of topics (such as the foundation of the Visitation Order, the Visitation mystery, the Eucharist, the Sacred Heart, the so-called 19th-century Salesian Pentecost, etc.–to offer just a few examples).
Arrival is Thursday, October 18.  Participant papers will be presented and discussed on Friday and Saturday. Departure is Sunday, October 21.
If you are interested in further information or in submitting a request to attend, contact either of the Seminar leaders below:
Joseph F. Chorpenning, O.S.F.S.
Chairman, International Commission
on Salesian Studies (ICSS)
Editorial Director, Saint Joseph's
University Press
5600 City Avenue
Philadelphia, PA 19131-1395
Tel. (610) 660-1214
Fax (610) 660-1257
E-mail: jchorpen@sju.edu
Wendy M. Wright, Ph.D.
Professor of Theology
John C. Kenefick Faculty
Chair in the Humanities
Creighton University
2500 California Plaza
Omaha NE 68178
Tel. (402) 280-2611
Fax (402) 280-2502
E-mail: wmwright@creighton.edu
Source: De Sales Resources and Ministries
July 15, 2012
Just discovered this!
The Monastic Republic of Letters of the Belgian Visitandines in the Late Seventeenth Century
Ping-Yuan Wang, Ohio University Lancaster
Epistolary exchange within the monastic sphere found close parallels in the secular world in the late seventeenth century. This paper analyzes the Visitandine (the Visitation Order) circular letters in Brussels, 1668-1710. I argue that letters circulated among Visitandine houses created a monastic Republic of Letters, in which the act of writing became a discursive practice that fostered a sense of community within a well-defined institution. While convent writings have been studied mainly for spirituality or the social history of the cloister, this paper emphasizes the self-regulatory and normalizing effects in nuns' epistolary exchange.
Founded in 1610, Visitandine spirituality favored the "little virtues" in life – gentility, graciousness, and meekness – over the intense asceticism that characterized most contemplative orders. Specifically, these "little virtues" supplied the elite notion of honnêteté with spiritual substance. The circular letters were the Order's prescribed media for Visitandine houses throughout Europe to connect and communicate with each other. They were largely formulaic in style and content. The Brussels Visitandines' circulars exuded civility and politesse that were central to seventeenth-century "polite conversation." They recounted the mundane routines in the convent and life-stories of recently deceased nuns with well-balanced sincerity and formality.
I argue that the Visitandines' public display of conformity to rules of "polite conversation" launched a self-sustaining mechanism that reinforced codes of conduct as well as fostered a sense of community. The monastic processes of identity-formation were strikingly similar with those found within other corporate bodies. With a focus on how writing shaped the concept of community, my paper brings Catholic religious women into a recently renewed discussion about the reciprocal relationship between the individual and community in the early modern period. My analysis also sheds light on the broader cultural significance as well as historical relevance of female monasticism.
June 8 2012
Freedom… religious liberty… 4th of July….
All these words stir up particular sentiments in our hearts.
St. Francis de Sales had his own unique perspective on freedom, and Fr. Eunan McDonnell, SDB,  in his book, The Concept of Freedom in the Writings of St. Francis de Sales, makes a timely and important contribution to both scholarship and daily living.
Fr. Alexander Pocetto, OSFS, says in his foreword to the book,"Fr. Eunan McDonnell, SDB, has tackled the formidable task of the concept of freedom in the works of the Doctor of Love with those qualities of a pearl diver so esteemed by the saint and has uncovered for us many facets of his teachings that shine forth like inestimable pearls. Taking the intellectual temper of our times in mind as the saint himself avowedly did in writing the above-mentioned spiritual classic, (Treatise on the Love of God)Fr. Eunan has brought to bear his not inconsiderable acute powers of analysis and a solid background in philosophy, theology and spirituality to bear on his reading and understanding of many of the saint's texts and certain aspects of his life.
..The relationship between freedom and love, that is woven into the very fabric of the saint's writings and life and uses it very effectively to unfold for us the rich implications of this fundamental and optimistic orientation.
Fr. Eunan faces squarely the climate of many misrepresentations and misconceptions in our world today of the concept of freedom and proceeds to deftly show how the saint's view of this essential quality of human nature can fruitfully engage our culture fashioned by the ideas of freedom of such influential thinkers as John Stuart Mill, Nietzsche and Jean-Paul Sartre. These thinkers, especially the latter, viewed human freedom essentially as an absolute value that stresses man's autonomy, self-determination and indi­viduality to the detriment of the common good and an authentic human flourishing. He viewed religion as incompatible with and diametrically opposed to human freedom. Fr. Eunan convincingly demonstrates how the saint's ideas of freedom differ fundamentally from these pernicious and persistent influences."
This work may be ordered on line at: www.peterlang.com or at  http://www.desalesresource.org/
Portions may be available on line at:
http://books.google.com/books?id=UUsXmzuzx6kC&printsec=frontcover&dq=the+concept+of+freedom+in+the+writings+of+st+francis+de+sales&hl=en#v=onepage&q=the%20concept%20of%20freedom%20in%20the%20writings%20of%20st%20francis%20de%20sales&f=false
March:
A recent dissertation entitled: The Reform of Zeal: Francois de Sales and Militant Catholicism During the French Wars of Religion, by Thomas A. Donlan, published in 2011 by the University of Arizona, can be found here:
http://arizona.openrepository.com/arizona/bitstream/10150/203012/1/azu_etd_11856_sip1_m.pdf
This study sheds light " on one French Catholic, Francois de Sales, who did critique the violence of the Wars of Religion on religious grounds and actively promoted a nonmilitant conceptualization and practice of piety as well. Indeed, as we shall see, in the Order of the Visitation, de Sales suceeds in creating a new religious order committed to cultivating interpersonal relationships and forms of worship characterized by gentleness." (page 25)
********************************************************************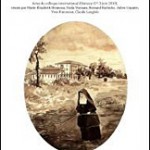 A new Book has been published, in French, reflecting talks from the 3 Conference Days held in Annecy June 2010 during the 400th anniversary year of the Visitation Order.
What a revelation to learn that so many University scholars and Professors are studying so many aspects of the Visitation Order!Some of the topics covered were the nature of our Circular letters, canon law and the Visitation and historical perspectives.
There were two excellent talks in particular, one of Ven Anne Madeleine Remuzat; another a study on Visitation "cells.". A third talk was about  the beatification and canonization of St Jane and a fourth on Bremond and the Visitation., the fifth being on St Therese and the Visitation.
The Book" Pour Annecy et Pour le Monde" may be purchased in the United States for $35.00 from Michael Shamansky Booksellers Inc.
Michael Shamansky, Bookseller Inc.
P.O.Box 3904
Kingston, NY 12402 USA
Phone
845-331-8519
Fax
845-331-0852
Office Hours
Monday-Friday 9:00am – 5:00pm EST
Email
michael@artbooks.com
We welcome your suggestions, comments, inquiries or problems (book related, of course).
Join the
Mail List
Our online form to join our mail list includes a place for comments, suggestions and inquiries.
From the Diocese of Annecy, a review:
… : l'ordre de la Visitation (1610-2010). Les Archives départementales de la Haute-Savoie viennent de faire paraître les actes du colloque international qui s'est tenu à Annecy du 1er au 3 juin 2010, dans le cadre de la Célébration nationale du 4e centenaire de la fondation de la Visitation à Annecy.
L'histoire religieuse et particulièrement l'histoire du clergé régulier féminin, dont les formes évoluent et se diversifient au cours des siècles, demeure un champ de recherche permanent. La célébration de ces 400 ans et de l'essaimage qui s'ensuivit a réuni des spécialistes de provenances larges (Belgique, France, Italie) pour revisiter quatre dimensions de l'ordre de la Visitation et de ses monastères : la chrono-géographie et l'organisation de l'Ordre, ses fonctions sociales – incluant l'enseignement et les rapports à la société civile –, l'architecture et la fonction économique, les spiritualités de la Visitation. L'accent a porté singulièrement, mais pas exclusivement, sur la période contemporaine si peu explorée à ce jour. Ce livre est enrichi par un rapport archivistique très large sur les sources en France.
C'est le parti qu'a retenu le conseil scientifique à l'origine de cet ouvrage, qui réunit les plus importantes contributions présentées en juin 2010 dans le cadre de ce colloque.
L'ouvrage : Pour Annecy et pour le monde : l'ordre de la Visitation (1610-2010)
Archives départementales de la Haute-Savoie-Silvana Editoriale, Actes du colloque réunis par Marie-Élisabeth Henneau, Paola Vismara, Bernard Barbiche, Julien Coppier, Yves Kinossian et Claude Langlois, Annecy, 2011, 387 p., cahier couleur de 12 p.
Pour commander : ISBN : 9788836622214
Prix de vente : 18 Euros
Ouvrage aux Archives départementales de la Haute-Savoie ou en librairie.
Pour revenir sur les temps forts de cette année de la Visitation, cliquer ici
Diocese of Annecy