More International News
News from Our Parisian Visitation Monastery
A series of conferences held in November 2010 in Paris during the Order's 400th anniversary are in the process of being published, by the Auxiliary Bishop who directs the College of the Bernardins.
A special visitor to the Monastery came from our Monastery in Burundi, Africa, Mother.Anne Marguerite,.on her way to Paray le Monial to obtain the proper documents for their rapidly growing Guard of Honor/Hour of Presence Association in Burundi.
The Parisian Guard of Honor's monthly meeting brought together a couple who subsequentlywas married in the Monastery's  Chapel.
ENJOY A VIDEO VISIT WITH VISITATION NUNS IN THE DOMINICAN REPUBLIC!  
http://www.youtube.com/watch?v=ItJuV5mlfak
Congolese Visitandine Celebrates 25th Anniversary of Vows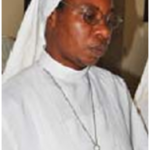 The Monastery of the Visitation in Fribourg, Switzerland sold its library to the State of Fribourg
The Monastery of the Visitation in Freiburg decided to cede to the State of Fribourg's library. This is a great heritage value and comprises about 6,000 works dating from the seventeenth to the nineteenth century. It will be deposited at the Cantonal and University Library (BCU) which is responsible for the inventory and make it accessible to the public
The State Council has accepted, with thanks, the donation of high heritage value. He told the BCU care to keep the funds and inventory. Knowing that other religious libraries (Jesuits, Capuchins, Redemptorists) are already on the BCU, the reception of the library of the Monastery of the Visitation will complement and enrich the collections of the cultural institution and enhance its attractiveness to researchers.
The library of the Monastery of the Visitation is a great heritage, not only in terms of religious life itself but also for the history of the city and the canton of Fribourg. It contains books dating from the seventeenth to the nineteenth century. It covers the fields of theology, history and the order of Salesian spirituality.
The order of the Visitation of Holy Mary was founded in 1610 by St. Francis de Sales and St. Jane de Chantal in Annecy. Under the auspices of the Superior of the Monastery of Besançon, thirteen nuns sought refuge in Freiburg in 1635 during the troubles of the Thirty Years War. In 1651, the community received Government permission to reside permanently in Fribourg canton. The church and convent buildings were built from 1653. The monastery received in 1798 a number of aristocrats opposed to revolutionary ideas. The authorities of the Helvetic Republic confiscated the goods of the monastery and placed under civilian control. The Visitation, contemplative order, devoted themselves to education for girls until 1922, the year the boarding school was finally closed.
2 Responses to "More International News"