Living Jesus Chat Room
Do you want to deepen your love of the Sacred Heart of Jesus? Become more of an instrument of grace of Christ's redeeming love? See our chat room to the right, and join up by submitting the form on our Chat Membership page. Or just come on Sunday and sign up as a guest. Our chats are normally every Sunday from 7:30 p.m. to 8:30 p.m., Eastern Time U.S.
On our chats, you'll learn that the way of humility and friendship is at the core of Salesian spirituality. It has its roots in both a deep understanding of human nature and a keen insight on the mercy of God. This spirituality is based on the writings of St. Francis de Sales, bishop and doctor of the Church, whose thoughts four hundred years ago are strikingly relevant today.
The Visitation Order holds hidden treasures and resources for serious seekers of a deeply interior spiritual life. Whether you are a lay person seeking a deeper interior life, or a possible vocation as a Visitation Sister, enter into a dialog with our Visitation Moderator during the chat.
Deepen Your Spiritual Life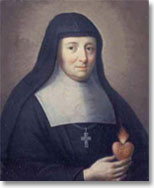 The Living Jesus Chat Room is a method for you to deepen your spiritual life by communicating with a Visitandine sister and others. Whether you are a lay person interested in plunging more fully into a way of daily devotion, or even considering a possible vocation to the monastic Visitandine tradition, we invite you to talk with us and others via this chat room. The chats will be moderated by a Visitandine sister.
There are two ways that the chat services will be offered: first, you can arrange to chat with the chat sister in an informal way. The other way is through our Sunday chats. You may sign up on our Chat Membership page, or just show up here on Sunday and talk as a guest.
See also our Chat FAQs page.