Visitation Vocations
"It is quite certain that when God calls anyone to a state of life, He binds Himself, in consequence, by His divine Providence, to furnish that person with all the aids required to become perfect in his vocation."
St. Francis de Sales, Conference XVII
What is the essence of a vocation to the Visitandine monastic life?
The Visitation Order was founded by St. Francis de Sales and St. Jane de Chantal, under the inspiration of the Holy Spirit, to give to God daughters of prayer, and souls so interior that they might be found worthy to serve God and adore Him in spirit and in truth. Out task is to be engulfed in God. Our Congregation is really the work of the Hearts of Jesus and Mary. Our Savior gave birth to us from the wound of His Sacred Heart.
We welcome you to explore the possibility of your vocation with the Visitation Order by:
reflecting on the spirituality shared on this website,
joining the Chat Room and sharing your questions and insights, especially on "Vocation Chat Days",or "Discernment Sundays"
making retreats in any of our Visitation Monasteries,
contacting our Vocation Directresses below

and getting to know the Sisters!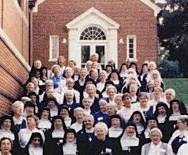 Contact us