The Sacred Heart and MP3 Talks
Free MP3s of the Visitation Sisters' 400th Anniversary Gathering in St. Louis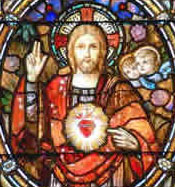 To celebrate the 400th anniversary of the founding of the Order of the Visitation of Holy Mary (1610 to 2010), a gathering of 54 Visitandines from the United States and other parts of the world was held in June 2011 in St. Louis, MO. The topic of the conference was, "The Procession Honors the Heart of Jesus." The sisters spoke on the spirituality of the Sacred Heart and the charism and history of the Visitation Order. We share with you the talks of this joyous meeting.
---
This year the
Solemnity of the Sacred Heart
falls on June 7.
The Visitation Order has been associated with the Sacred Heart of Jesus from its origins, and was prepared from the very beginning to receive the revelations of the Sacred Heart to Saint Margaret Mary, a Visitandine from the Visitation Monastery in Paray-le-Monial, France.
St. Francis de Sales, the Founder of the Order, had an inspiration which he conveyed to the Foundress, St. Jane de Chantal: "So I have thought, dear Mother, that if you agree, we should take as our coat of arms a single heart pierced by two arrows and encircled in a crown of thorns; the heart is to hold and support a cross which is to surmount it, and the holy names of Jesus and Mary are to be engraved on the heart…for our little Congregation is really the work of the hearts of Jesus and Mary. Our dying Savior gave birth to us from the wound of His Sacred Heart." (Mission and Spirit)
Here is a prayer that St. Francis de Sales wrote which you may want to pray this month.   He prays
"If only I possessed the grace, good Jesus, to be utterly at one with You!
Amidst all the variety of worldly things around me, Lord, the only thing   I crave is unity with you.  You are all my soul needs. Unite, dear friend of my heart, this unique little soul of mine to Your perfect goodness.
You are all mine; when shall I be yours?  Lord Jesus, my beloved, be the magnet of my heart.  Clasp, press,  unite me forever to Your Sacred Heart.
Make me one with You for You have made me for Yourself. Absorb this tiny drop of my life into the ocean of goodness from whence it came."
Prayer of Francis de Sales, 1567-1622
But for Christians, life is meant to be more than a time to develop a relationship with God.  We are called to build community with others.  We are called to see Jesus in one another and to be Jesus for one another.  St. Jane, ever practical and wise, reflects on our relationships with others.   She says,
"We must not look at the faults of others but at their virtues.  We must see what there is of good in them. We must regard them in the heart of God and discover His image in each one." St. Jane de Chantal, Instruction V
2 Responses to "The Sacred Heart and MP3 Talks"