Sister Marie Teresa Desandais VHM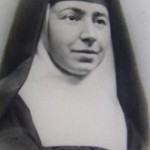 Many of you have heard of St. Faustina and the revelations of the Divine Mercy of Our Lord Jesus.
 But have you heard of the Apostle of Merciful Love, Sister Marie Teresa Desandais?
She was a Visitation Nun who also was given revelations of Merciful Love, a contemporary of St. Faustina, though a generation older.
Born in France  in 1876, at the age of nine years had already decided to become a religious!
In 1896, at age 20,  she entered the monastery of the Visitation of Dreux, France,  although she had always felt attraction for active and missionary life.  She said, "The Apostolate attracted me, I had passion for children, I wanted to be a missionary to go look for souls, when one day in a moment my vocation was decided..He made me see, illuminating me, that souls that are consecrated exteriorly have always been, but souls that sacrifice, that are annihilated before the Tabernacle, are never lost, and that he found few that wanted to sacrifice all, including their preferences..and that as I wanted to give Him all that was most difficult…….the grace was a surprise; as I had a decided repugnance toward this Order; all was to me disagreeable and for that I chose it in order to suffer more."
From her earliest years of religious life she began her literary activity, under the pseudonym of "little hand"  or "Sulamite." Everything she wrote was, according to her own words, "written at the dictation of God", thus becoming the spokesperson for the post of ' merciful love , entrusted by Jesus.
The style of the writings of Desandais is vibrant, incisive and sensitive but profound. She frequently has recourse to sacred Scripture and possesess a great sound doctrine. Much is personal meditation and identification with Christ. She wrote:
"Love is not Loved beacause it is not known, . Before this situation,Merciful Love wants to reveal itself to this world. To know God is also to know Merciful Love.
 Merciful Love is not a new thing; the Church has taught it from the beginning. It is the love of the Savior, his manifestation of the new Law. I do not want  that you embrace this devotion hoping to find in it a some new form of spirituality."
In 1912, without possessing special knowledge of painting Sister Marie Teresa painted the first image of the painting of '"merciful love" ,  Jesus crucified, his eyes turned to the sky and in the background a large Sacred Host with "IHS";  from the Heart of Jesus some rays flow out that illuminate a Bible at the foot of the crucifix, which shows  the verse: "Love one another as I have loved you"; and  always at the foot of the cross, a royal crown indicating the stripping of Jesus of his divine glory to take on our mortal nature and suffer dishonor and humiliation.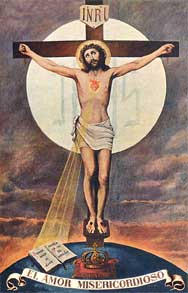 Towards the end of 1922, the writings of the Merciful Love  came to Fr. Juan Gonzalez Arintero,  who began to make them appear in the journal he had founded La Vida Sobrenatural. In the months that followed,there  was formed a group of propagandists among whom was the Chilean Jesuit Fernando Vives del Solar. In 1923, Father Vives visited Mother Marie-Thérèse in her monastery in Dreux and asked her to write an autobiography which would help him to know the origins of the Work of Merciful Love. From the early 1920s, the writings of Marie-Thérèse were widely distributed in Spain and France, from where they then went to many other parts of Europe, America and Asia.
Sr. Maria Teresa lived in the Monastery of Dreux until 1940. Later, because of World War II, the community moved to Vouvant, where the humble Visitandine, after a lifetime of dedication and concealment, died in the odor of sanctity in 1943.She was 66 years old and had been for several years superior of the community, from 1916-1919, 1928-31, and 1937-1940.
Currently Spanish scholars are re discovering Sister Maria Teressa Desandais  and publishing articles and books, all in Spanish and French, at present. Two such scholars are:  Federico M Requena and Pablo Ramon Verdeja Fernandez.
Currently certain of the works are available on line:
Aproximación teológica al mensaje deMaría Teresa Desandais sobre el amormisericordioso difundido en España: http://dspace.unav.es/dspace/bitstream/10171/22319/1/Verdeja%20Fern%C3%A1ndez.pdf
RECEPCIÓN EN ESPAÑA DEL MENSAJE DE MARÍATERESA DESANDAIS (P.M. SULAMITIS, 1922-1942)
http://dspace.unav.es/dspace/handle/10171/5989
LA MISERICORDIA DIVINA EN LA ESPIRITUALIDAD CRISTIANA .
http://dspace.unav.es/dspace/bitstream/10171/9532/1/8.pdf
Book: Autobiography of Sister Marie Theresa:
http://www.lulu.com/content/livre-%c3%a0-couverture-souple/autobiographie/13223669
May these all help you grow in Merciful Love!
Source of post: above articles, books and 
http://www.monasterovisitazione-baggiovara.org/suor_maria_teresa_desandais.html