Welcome
The Visitation Order holds hidden treasures and resources for serious seekers of a deeply interior spiritual life.
Whether you are a lay person interested in plunging more fully into a way of daily devotion, or even considering a possible vocation to the monastic Visitandine tradition, we invite you to walk a spiritual avenue with our Founders, Saints and Sisters into the Love of the Sacred Heart of Jesus.
Saint Francis de Sales, our Founder, was a Bishop and was named a Doctor of the Church, the "Doctor of Love," in 1877. He emphasized a spirituality for the laity centuries ago and some of his writings will be presented for your guidance.
Our Foundress, Saint Jane de Chantal, was a wife, mother and widow before collaborating with her spiritual director, St. Francis de Sales, in establishing the Visitation. Her life and interior growth continues to provide an example to people today.
In May 2012, EWTN Live interviewed our President of the Second Federation, and  Father Mitch Pacwa, SJ, asked stimulating questions about the Visitation Order, receiving some telling insights into the spirituality of the Visitation.
You are also invited to consider becoming a member of the "Living Jesus Chat Room," which is moderated by a Visitandine Sister every Sunday evening.
E BOOK ON DISCERNMENT AVAILABLE HERE: https://www.smashwords.com/books/view/348959
NEW E BOOK ON SALESIAN SPIRITUALITY HERE: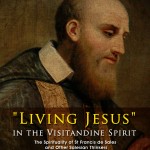 https://www.smashwords.com/books/view/485844.
Welcome!
The Sisters of the Visitation of Holy Mary